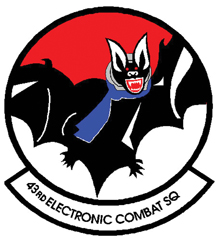 Mission: Provides warfighting commanders with combat-ready EC-130H COMPASS CALL aircraft and aircrews trained to execute combat information warfare operations in order to degrade the transfer of information essential to enemy weapon systems and battlefield resource command and control.
Vision: Combat-ready Airmen delivering electronic attack at a moment's notice … anywhere!
Description: Also known as the Bats, the 43rd ECS is comprised of about 160 active-duty aircrew, support personnel and civilians. Equipment includes eight assigned aircraft worth $165 million each. The squadron has been continuously involved in deployed combat operations for the last 11 years.
Slogan: "Fear What You Can't Hear"