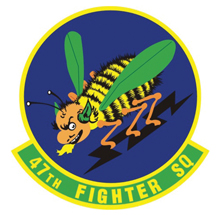 Mission: To train, educate, and mentor the world's finest attack pilots for the Combat Air Forces while honing the core competencies of A/OA-10 instruction, operations management and aircrew life support. To develop leaders, wingmen and warriors in all ranks to meet the challenges of leading our service today and into the future.
Description: The squadron is a unit-equipped 24 primary aerospace vehicle authorized A-10C aircraft squadron that conducts training for pilot initial qualification, transition and instructor qualification in the A-10C at Davis-Monthan AFB. The 47th both actively and classically associates with the 355th FW. The 47th FS currently has 55 Airmen comprised of full-time Air Reserve technicians, part-time traditional reservists, regular Air Force members and civilians.
History: Activated Dec. 1, 1940, as the 47th Pursuit Squadron, assigned to the 15th Pursuit Group at Wheeler Field, Hawaii. On Oct. 1, 2013, the 917th FG and the 47th deactivated. On March 1, 2014, the 47th stood up again as a Air Force Reserve A-10 formal training unit under the 924th FG at D-M AFB, as part of the 944th FW.