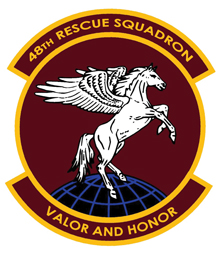 Mission: To rapidly deploy Guardian Angel forces worldwide in support of national security objectives and homeland defense, providing highly trained personnel recovery experts capable of quickly and effectively executing personnel recovery operations across the spectrum of conflict.
Vision: Develop and inspire highly qualified leaders able to effectively integrate Guardian Angel with joint, interagency and coalition forces in support of joint force commander/combatant commander taskings.
Description: The 48th RQS consists of approximately 110 pararescuemen; combat rescue officers; survival, evasion, resistance and escape specialists; and combat support personnel. The 48th RQS personnel have received hundreds of air medals, numerous combat action medals, and several Bronze Stars and Distinguished Flying Crosses.
Slogan: "Valor and Honor"
Motto: "These things we do … that others may live."