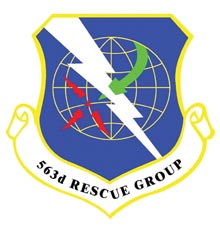 Mission: Provide the world's best operational support to the Air Force's premier rescue group by enabling mission accomplishment through exceptional intelligence, plans, scheduling, training and aerial delivery support in a coordinated effort to guarantee successful worldwide operations.
Vision: Diverse group of rescue professionals who are well-trained to lead and prepared to support full spectrum personnel recovery operations anywhere in the world.
Description: Supports all aspects of the training and employment of the 563rd Rescue Group's six combat-ready HC-130J, HH-60G and Guardian Angel squadrons. The unit contains more than 100 civilian and military personnel at Davis Monthan AFB, as well as a 27-member geographically separated operations support detachment at Nellis AFB, Nevada. It provides all operations support functions including weapons and tactics, current operations, intelligence, training, aircrew flight equipment, SERE, medical support, aerial delivery, mobility and flying hour program management. As a worldwide deployable unit, it also is responsible for implementing contingency and theater war plans.
Slogan: In Omnia Paratus — "Prepared for all things"
History: Constituted as the 3D Station Complement Squadron under 3D Air Force April 5, 1943, and activated April 10, 1943, and later reconstituted and redesignated as the 563rd OSS under the 23rd Wing's 563rd RQG July 29, 2003.