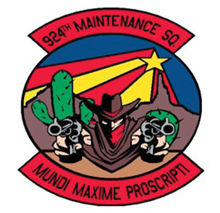 Mission: To maintain aircraft to facilitate the training, education and mentoring of the world's finest attack pilots for the Combat Air Forces. To further develop the leaders, wingmen, and warriors at all ranks to meet the challenges of leading our service today, and into our future while continuing to support Total Force Integration.
Vision: Provide maintenance support to A-10 formal training units and host maintenance squadrons to produce A-10C student training sorties.
Description: Provides superior maintenance to the unit-equipped 28 A-10C aircraft supporting the 47th FS's formal training unit that conducts training for pilot initial qualification, transition and instructor qualification in the A-10C as well as three test aircraft for the Air National Guard / Air Force Reserve Command Test and Training Center and Air Force Materiel Command's 40th Flight Test Squadron Operating Location Alpha. The unit is both actively and classically associated with the 355th FW. The unit is authorized full- and part-time maintenance positions and also has 40 active-duty maintainers on the team. The average maintenance experience for personnel assigned to the unit is 10 years. Full-time or air reserve technician maintainers have integrated into the squadrons of the 355th MXG and are currently working in more than 20 Air Force specialty codes. The 924th MXS provides highly qualified and trained maintenance personnel sharing resources (aircraft/tools/vehicles, etc.) with its host, the 355th FW.