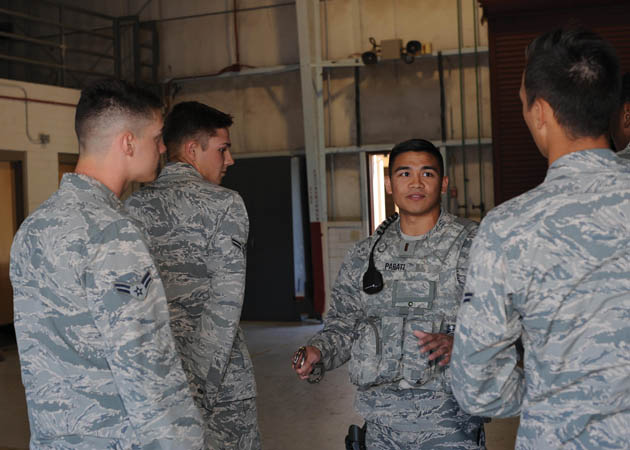 After considering a college he couldn't quite afford and a job he didn't see escalating to a career, it came to a flip of the coin for Robert Parati to make the decision to enlist into the Air Force or Marine Corps.
As the first member of his Filipino family to be born in the U.S., Parati grew up in a household structured by his mother and grandmother who emphasized the importance of taking care of family.
"The summer after senior year I was supposed to leave for basic for the Marine Corps," said the second lieutenant, 355th Security Forces Squadron flight commander. "But I received a scholarship for the university across the street from my high school."
The struggle to keep up with school, work and family, left him wondering if he'd made the right choice. With the guidance of his family, Parati once again considered the military life, this time torn between two sister services.
When the coin landed, the choice was made. He enlisted into the Air Force the next day.
"My early years in the Air Force went by quickly," Parati said. "My first assignment was to Spangdahlem Air Base, Germany, as an airman first class for ammunition."
It wasn't long before Parati was spotted by his leadership. His production supervisor, Tech. Sgt. Clinton Scott, pulled him aside.
"At this point I had already thought about staying enlisted for my whole career," Parati said. "I had gone to the Airmen's Attic, picked up staff sergeant stripes all the way up to master sergeant and made each rank a goal."
Thinking he was in trouble, Parati went and stood in Scott's office where a brochure for the Air Force Academy was presented to him. He applied for a program that selects enlisted Airmen and transfers them to the academy for a commissioning opportunity.
"Leadership, took very good care of me," Parati said. "I can honestly say I would not be here if it weren't for them."
During this transition from enlisted to officer, Parati said, there was a silent expectation from his leadership and family.
"All that potential they saw in me, and I didn't want to fail them," he said. "I didn't want it to change how they saw me as a person, an airman and a son."
Throughout his life, Parati has taken pride in being there for people, whether it's caring for his mother and grandmother or looking out for his Airmen and peers. He has adopted it into a leadership role.
"Excellence in all we do is a core value," Parati said. "For me to say 'my Air Force,' doesn't apply only to our perception of each other, but how the nation perceives us as a service. I want them to know they can rely on us no matter what the job is, whatever the country requires of us."