The Tucson Composite Squadron 105 of the Civil Air Patrol had a change of command ceremony Nov. 5 at Davis-Monthan Air Force Base. First Lt. Justin Thomas relinquished command to Lt. Col. Charles Jarvis II.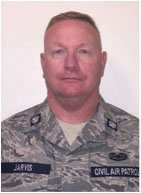 Jarvis enlisted Jan. 18, 1983, into the Army. He joined the California Army National Guard in April 1985 and was accepted into the California Military Academy Officer Candidate Program and commissioned as a second lieutenant, Ordnance Corp July 24, 1994.
He was promoted to lieutenant colonel July 1, 2014, at FOB Walton, Kandahar City, Kandahar, Afghanistan.  He medically retired Oct. 14, 2015, due to combat related injuries.