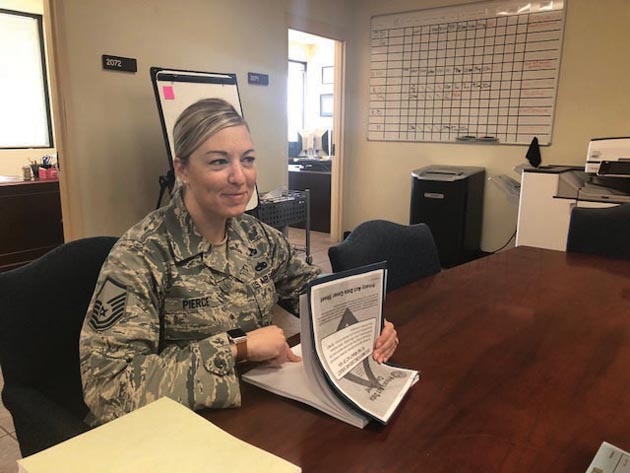 An Air Force Reserve individual mobilization augmentee at Davis Monthan Air Force Base was recently recognized at Air Combat Command and Air Force Reserve-levels for work she performed in 2017.
Master Sgt. Jessica Pierce, attached to the 355th Fighter Wing Legal Office as the IMA to the law office superintendent, is the ACC senior NCO Reserve paralegal of 2018 and Individual Reservist senior NCO of the Year for the Air Force.
Pierce's outstanding efforts came at a crucial time in the 355th FW legal office when she was called upon to fill a void left by the retirement of the office superintendent at one of the busiest military justice offices in the Air Force.
In July 2017, the legal office realized the upcoming retirement of the superintendent would pose a problem since the inbound superintendent would not arrive until January 2018. The legal office conducted the fourth highest number of general courts-martial in the Air Force and the forecast for 2018 would prove no different. Office leaders immediately looked to Pierce to mitigate the shortfall in leadership.
Despite her busy civilian career as a public school counselor, and with the support of her school leadership, she volunteered and was approved to go for a five-month tour of duty with her attached legal office, where her duties included courts-martial preparation, legal assistance and acting as law office superintendent.
Pierce's strength in teamwork is a testament to the outstanding results that were obtained through the collaboration of active-duty and Reserve Airmen.
During her time as law office superintendent, she prepared the legal office for a biannual three-star Judge Advocate Headquarters Air Force inspection. Her abilities guided the 26-member office to an "Excellent" rating in the five-tier grading system.
Pierce also oversaw the assistance of some 5,800 legal clients, 82 courts-martial, 4,600 individual tax returns, and the elimination of the Arizona Department of Motor Vehicles out-of-state tax form for all military members, attracting recognition for her office to include the Air Combat Command Large Legal Office of 2017 award.