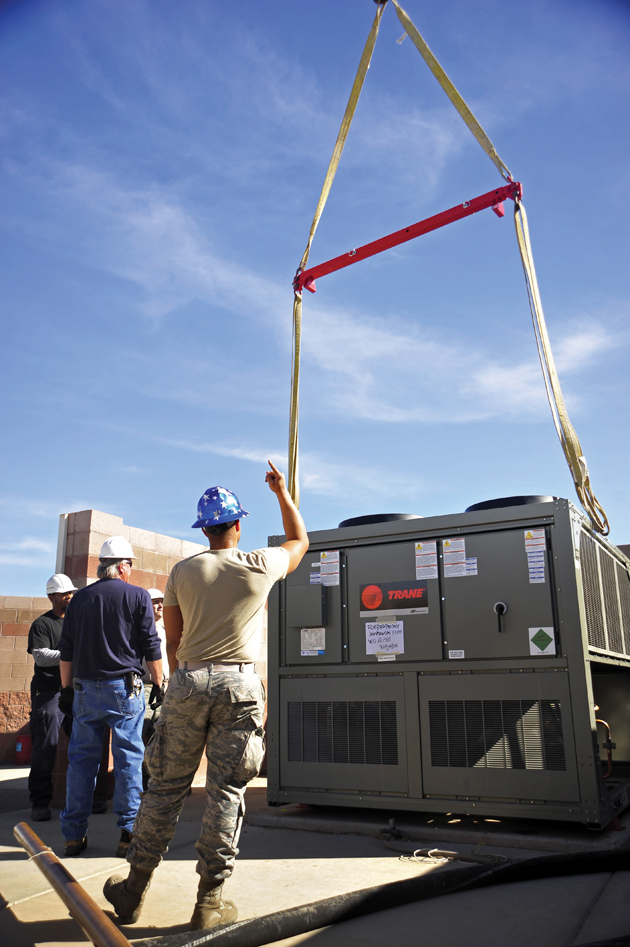 Senior Airman Cheyenne Powers
HVAC team installs new chiller
U.S. Air Force Senior Airman Henry Alexander, 355th Civil Engineer Squadron heavy equipment operator, directs a crane operator Jan. 30, 2018, during the positioning of a new chiller at Davis-Monthan Air Force Base. The installation was necessary after the previous chiller at the 563rd Operational Support Squadron sustained total damage. With the help of the Dirt Boyz, the HVAC team was able to install a brand new chiller, ensuring the 563rd OSS did not experience a lapse in mission readiness.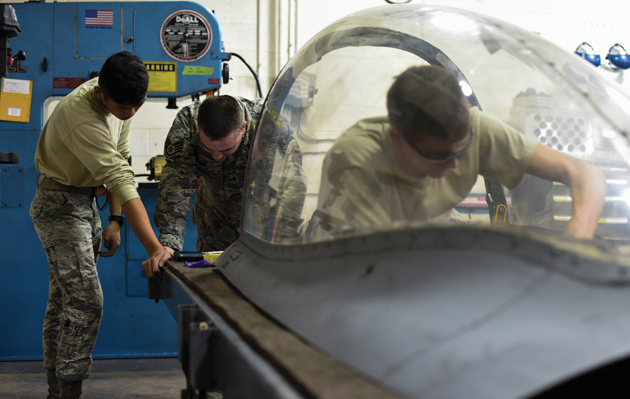 Airman 1st Class Frankie Moore
Metals tech
U.S. Air Force Staff Sgt. Troy Poe, 355th Equipment Maintenance Squadron metals technology craftsman, and Airman 1st Class Gio Austria, 355th EMS metals technology journeyman, verify authorized wear limits Jan. 4, 2018, on an A-10 Thunderbolt II canopy at Davis-Monthan Air Force Base. The 355th EMS metals technology section covers maintenance on all aircraft assigned to the 355th Fighter Wing.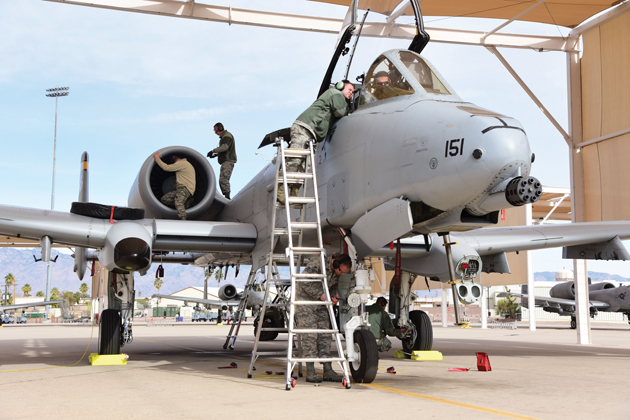 Senior Airman Betty Chevalier
Heritage Flight to bring airpower to SBLII
The A-10C Thunderbolt II Demonstration Team conducts a post-flight inspection Jan. 22, 2018, at Davis-Monthan Air Force Base. The A-10 Demo Team and A-10 Heritage Flight pilots supported a heritage flight flyover during the opening ceremonies of Super Bowl LII in Minneapolis, Minnesota.