A unit with history dating back to the attacks on Pearl Harbor commemorated the 79th anniversary of the tragic event with a ceremony at Davis-Monthan Air Force Base, Ariz., Dec. 7, 2020.
The 43rd Electronic Combat Squadron was based at Bellows Field, Hawaii, an airfield on Oahu that was attacked by a lone zero airplane on Dec. 7, 1941.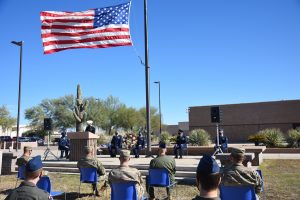 "Our squadron has ties to the 86th Observation Squadron," said U.S. Air Force Lt. Col. Jason Kerbs, 43rd ECS commander, who served in Hawaii between assignments at Davis-Monthan. "When I got back I wanted to make sure our squadron didn't lose its history."
It was important to Kerbs that the ceremony include sister services who were also part of the attacks on Oahu. U.S. Marine Corps Maj. Colton Bowser and U.S. Air Force Maj. Nathan Blair, who previously served in the Navy, both spoke about the heavy toll the attacks on Pearl Harbor took on those service components.
"We typically think of the Navy's involvement, but often the other services' involvement is forgotten or just missed, but the fact is, we lost members of every service, including the Air Force," said Kerbs. "We lost a few hundred [Airmen] that day."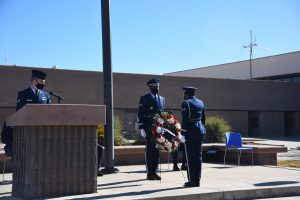 U.S. Air Force Tech. Sgt. Thomas Wiklinski, 43rd ECS commander support staff personnelist, was in charge of the ceremony and said the experience of putting it together was meaningful because in his 11 years of service in the Air Force he has never been assigned to a unit that had ties to Pearl Harbor.
"It is unimaginable what they went through and how it affects the Air Force even today," he said.
Kerbs also spoke about how the attacks 79 years ago have significance and relevance in today's military.
"On that day, we all agree, we were not ready," he said. "It is important that we maintain readiness today. We cannot forget what happened then because we do not want it to happen ever again."
The attack killed 2,403 U.S. personnel, including 68 civilians, and destroyed or damaged 19 U.S. Navy ships, including eight battleships, according to census.gov.