The 162nd Wing welcomed national-level media and Continental U.S. North American Aerospace Defense (NORAD) representatives this week for a media day and flight to highlight air defense security efforts that will be in place over State Farm Stadium in Glendale, Ariz., during Super Bowl LVII on Feb. 12, 2023.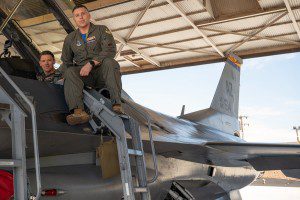 Tucson's own 162nd Wing trains for airspace control alert scenarios and could be called upon if needed to provide air defense during the Super Bowl. Several events highlighted the Operation Noble Eagle (ONE) mission, which began after the terrorist attacks of Sept. 11, 2001.
One popular event was 'media day,' which was hosted at Luke Air force Base, Ariz., on Feb. 7. Air defense partners from the 162nd Wing, FAA, Civil Air Patrol, Glendale Police Department, and NORAD were present to showcase their respective airframes and answer questions about their missions.
"This is an opportunity to showcase our highly trained pilots and maintenance crews to the world," said Lt. Col. Frank Lusher, 162nd Wing Detachment 2 commander. "We're happy to answer the call whenever America needs us," he said.
Arizona Guardsmen then flew media members on a KC-135 at Goldwater Air National Guard Base, Arizona, to observe the aerial refueling of a 162nd Wing F-16. Capt. Andrew See, a 162nd Wing pilot, answered F-16 media questions from on board the KC-135.
The 162nd Wing Detachment 2 hosted Fox News correspondent Matt Finn the next day to give an up-close look at the ONE mission from the back of an F-16. Finn joined 162nd Wing pilots in an exercise scenario as the jets were alerted to escort an unknown aircraft away from the FAA's temporary flight restriction zone.
"This definitely gave me a better understanding of this mission and what an intercept mission looks like," said Finn. "I can imagine any pilot in a Cessna would be stunned to have an F-16 fly up alongside them. I have a lot of admiration for these military pilots," he said.
If all goes as planned, the public will be well enough informed of the restricted airspace that will be in place over the stadium during Super Bowl LVII on Feb. 12. If not, the Arizona Air National Guard is standing by its motto, 'Always Ready, Always There.'