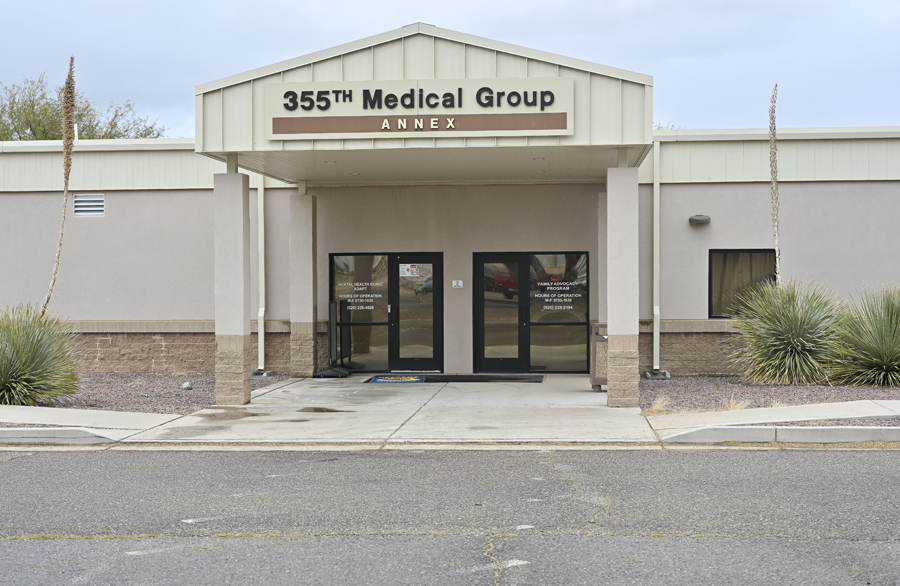 In accordance with an Air Force-wide initiative, mental health professionals at the 355th Medical Group have started to focus on vectoring mental health patients who do not need direct therapy toward group therapy or shift care at Davis-Monthan Air Force Base, Ariz., Feb. 7, 2023.
This new approach of connecting a member with the most appropriate resources  is known as "Targeted Care Initiative for Mental Health." These group sessions will host 5-10 patients who will work with one or two mental health specialists. The purpose of this initiative is to improve access to care so that members do not have to face extended wait times for individualized care.
"Targeted care is a new way to approach mental health," said Katherine Lord, 355th MDG social worker. "The goal is provide the most appropriate level of care to individuals who are referred to us and determine what the best avenue is for them whether it is us, the chapel, friends and family or an outside resource."
Another on-base resource available to Airmen is True North. This program embeds providers and social workers in specific units including: 48th Rescue Squadron, 563rd Rescue Group, 55th RQS, 79th RQS and Rescue Generation Squadron, 55th Electronic Combat Group, 355th Wing, 355th Mission Support Group, 755th Operations Support Squadron, 355th Security Forces Squadron, 355th Equipment Maintenance Squadron and the 755th Aircraft Maintenance Squadron.
"Right now there are a couple of different ways you can get into mental health and be seen," said Senior Airman Jacob Stubbs, 355th MDG mental health technician. "Being referred by your primary care manager is the main way to get seen by specialty care providers, we also have walk-in hours where we can vector people to the appropriate level of care. For people that don't need specialty care we can refer them to the chapel or other resources such as a group session."
While this initiative is still being developed, it has already been implemented on nine other installations with improved access to care results.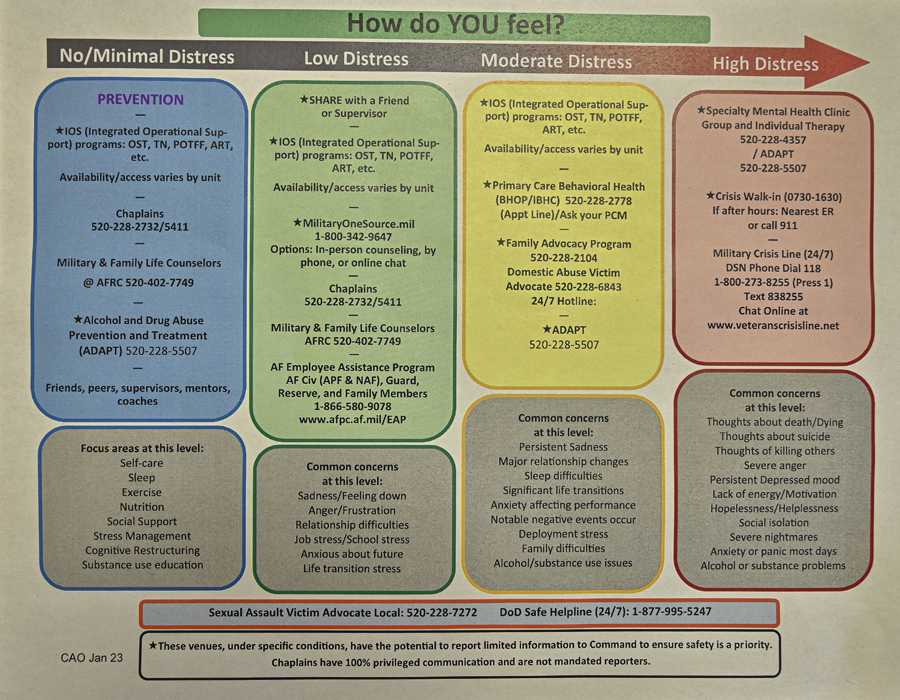 For members at and around Davis-Monthan, the mental health resources are:
The mental health clinic (520-228-4357), walk-in hours are Monday-Friday 0730-1630;
The chapel (520-228-5411);
Primary care behavioral health appointment line (520-228-2778); and
Military family life counselors for active duty and family members (520-228-7749).
Off-base services include:
Military One Source (800-342-9647)
Tucson Vet Center (520-882-0333).
The national 24-hour crisis line hotline is (988), and the Arizona statewide crisis hotline is (1-844-534-4673).