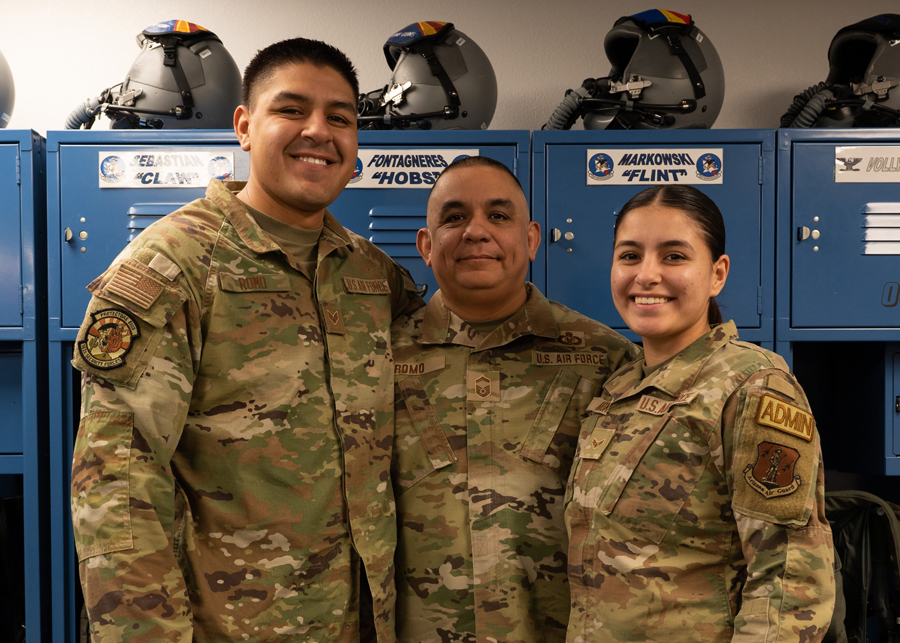 Today, Airman 1st Class Anali Romo serves as an admin on the command support staff at the 162nd Wing at Morris Air National Guard Base, Tucson, Ariz.
As a child of a military member, her father served as her inspiration to join the Arizona Air National Guard.
"Growing up I would always call him a soldier," said Romo. "Ever since I was little, I put on his uniform, and I always knew I wanted to join the Guard because of my dad."
Romo's father, Senior Master Sgt. Lorenzo Romo, is in his 28th year of service and is currently the superintendent for aircrew flight equipment here.
Romo recalls thinking that her dad was special, but her friends were intimidated by his uniform.
"I was and still am proud of my dad, but some of my friends were scared of him when he came to pick us up," Romo said. "I think it was the uniform, because he is just a big teddy bear."
"One of my favorite memories was when he would work night shift," said Romo. "He would pick us up from school, my mom would meet us back at base with dinner, and we would eat while watching the jets take off."
Whether her father was home or deployed, Romo and her family always felt taken care of by the 162nd Wing.
"Being raised in a military family has shown me that we will be provided for," said Romo. "When my dad deployed to Afghanistan, we felt very supported while he was gone."
Romo said when her father was home, he would integrate the Air Force core values in the way that he raised her and her brother, which she believes led to how to deal with consequences in life and how to respect others.
"I didn't realize how much he incorporated the core values in raising us until I joined in 2021 and learned them in basic training," said Romo.
Romo went to basic training just before Thanksgiving, which is when her extended family has a big gathering. It was also the first time she had been away from home and not had contact with her family. Her father left her with advice that has stuck with her.
"There are two things that I remember my dad told me," said Romo. "Remind yourself that the fastest way is through and that eventually I am going home."
Romo is presently on short term orders, but she hopes to earn a full-time spot and eventually retire here.
"I plan to serve until my retirement in 20 years, if not even longer," said Romo. "I would love to one day have a family that carries on my military legacy."