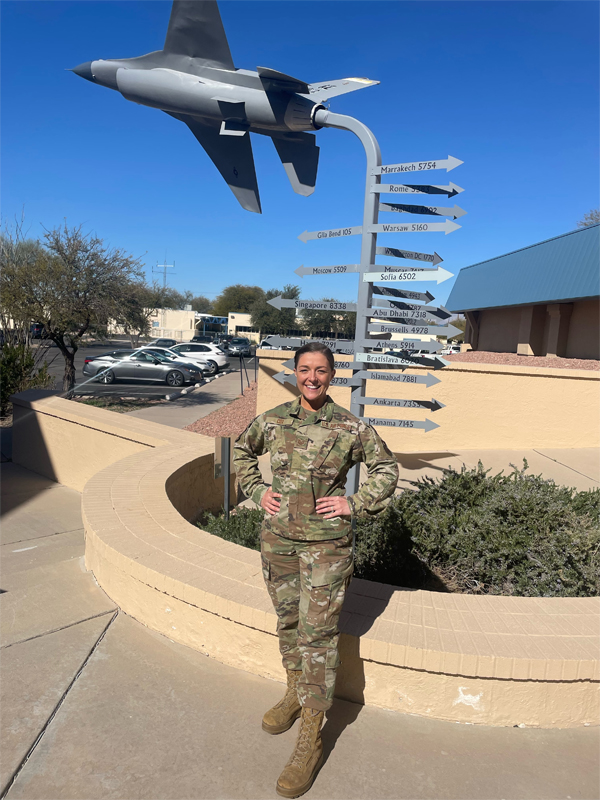 March is Women's History Month and this month we're highlighting Tech. Sgt. Kristie Cox, who is the Non-Commissioned Officer-in-Charge of Wing Intelligence at Morris Air National Guard Base, Tucson, Ariz.
As many do, Cox joined to pursue educational benefits and serve only one enlistment, but she is quickly approaching a decade of service.
"I thought that I would complete my enlistment and then get out," said Cox. "I ended up loving my time in the military and I am proud to wear this uniform."
Cox has had the opportunity to travel the across United States and the world for military training courses, temporary duty assignments, exercises and deployments.
"The one thing that has remained consistent everywhere I have gone is meeting the most incredible people," said Cox. "I am lucky enough now to have friends and colleagues not only all over the country but all over the world."
Cox is adding her own notable contributions to women's history at the 162nd Wing. Over the span of five months in 2021, Cox deployed to Qatar and then to Kuwait. The following year she won NCO of the year for the 162nd Operations Group and the 162nd Wing, which culminated in her winning the award for 2022 AETC Intelligence Surveillance Reconnaissance NCO of the Year.
"Women's history month is important because it gives us an opportunity to celebrate the contributions that women have made throughout history and recognize their achievements," said Cox. "I came from a family of strong women that I always looked up to and wanted to be just like."
Senior Master Sgt. Kayla Carpenter has been Cox's biggest inspiration. Cox admires Carpenter's ability to be hard on individuals in a way that makes you want to push yourself harder and to be better, but also providing mentorship along the way.
"I think she is a huge part of why I have excelled," said Cox. "She pushed me out of my comfort zone because she believed in me, and that gave me the confidence to aim higher."