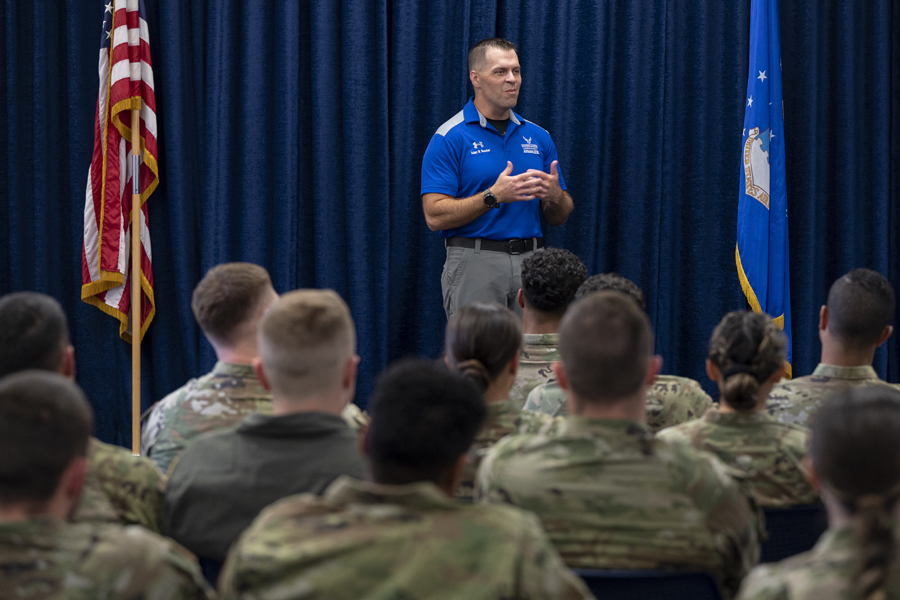 The Air Force Wounded Warrior Program visited Davis-Monthan Air Force Base, Ariz., April 10-11, 2023.
AFW2 is a program intended to provide concentrated non-medical care and support for seriously or very seriously wounded, ill and injured Airmen, Guardians, caregivers and their families as they recover and transition back to duty or to civilian life.
"We are here on our Ambassador Roadshow to educate Air Force and Space Force audiences on the role the AFW2 plays," said Melissa Wiest, AFW2 outreach and ambassador program manager. "AFW2 chose DM as part of an outreach tour in the Arizona region. Part of this was due to location and also had a lot to do with the operational mission at DM, which impacts career fields making up the largest portion of our enrolled population."
The AFW2 team, including program managers and ambassadors, visited different units across DM to brief Airmen on their mission. These units included the 355th Security Forces Squadron, 355th Maintenance Group, 355th Medical Group, Airman Leadership School, the 563rd Rescue Group and others.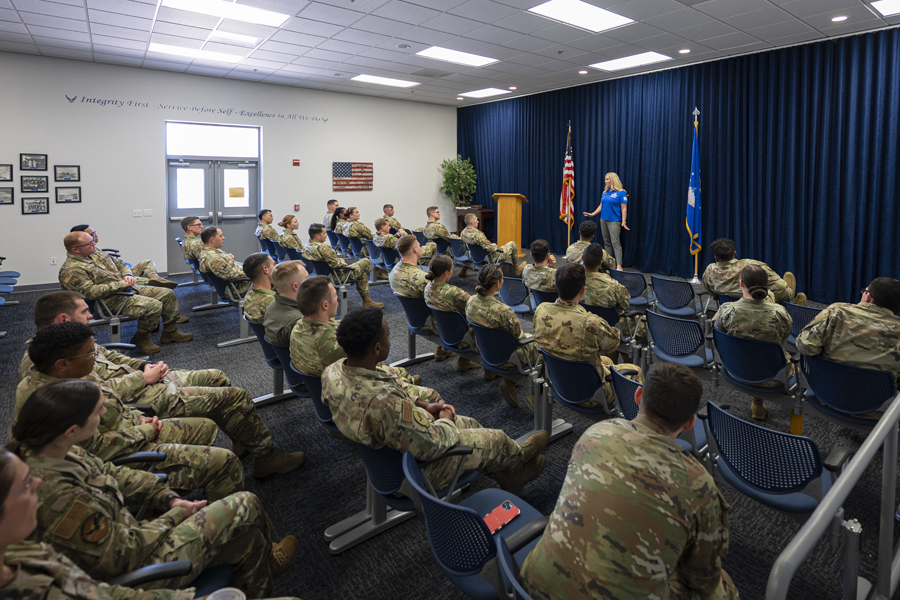 "Many Airmen or Guardians enrolled in our program say they knew little about us until they were hurt or became sick," said Scott Wilson, AFW2 Non-Medical Care Branch chief. "We're trying to change that by going straight to the Air and Space Force bases to talk with leaders, supervisors and the boots on the ground conducting the missions. The goal is to ensure that every Airman and Guardian has heard about AFW2 and what we have to offer."
AFW2 provides support programs, care management, briefings and other events in order to support wounded warriors, but also inform current service members of the support they offer. This program supports more than 8,400 members to provide a refined, simplified transition back to duty or into civilian life, ensuring recovering service members are well-equipped to manage challenges because of their wounds, injuries or illnesses.
"AFW2 helps enrolled Airmen and Guardians by establishing a continuum of care with the goal of returning them to duty, or assist them in transition into veteran status," Wilson said. "Our Recovery Care Coordinators work hand in hand with the Wounded Warrior, their leadership and medical channels to ensure they are getting the care that they deserve."
Programs like AFW2 are how the Air Force cares for and serves its most valuable resource, its Airmen, and this visit ensured that Airmen around DM know about this program and all the help it can offer them and their families.