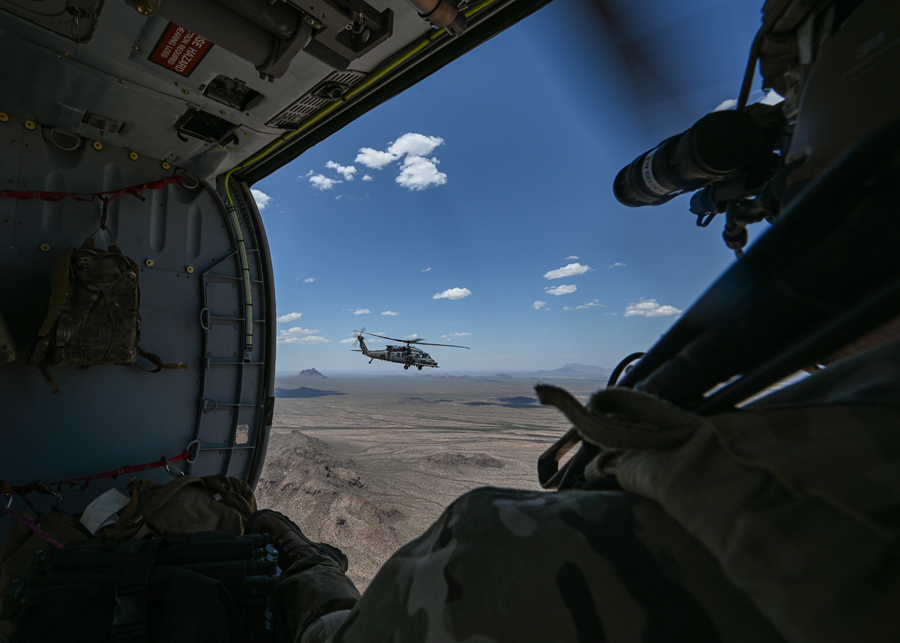 The motto "That others may live" is the driving force behind hundreds of Airmen's efforts, including pilots, special mission aviators, pararescuemen, maintainers and support personnel.
Davis-Monthan Air Force Base, Ariz., received the first of its new HH-60W Jolly Green II helicopters in May 2023 as the wing continues developing and fortifying their Airmen for tomorrow's fight.
"It is great to get these new aircraft here at DM," said Col. Paul Sheets, 355th Wing vice commander. "The arrival of the HH-60W gives the team enhanced combat rescue capability for today's conflicts and the future."
By the end of 2024, this helicopter will replace the 55th Rescue Squadron's aging HH-60G Pave Hawk fleet. The Jolly Green II, currently operating in Air Combat Command and Air Education Training Command, will integrate into Pacific Air Forces, U.S. Air Forces in Europe, Air National Guard and Air Force Reserve Command within the next five years.
"I am excited for the opportunities the fielding of the HH-60W brings for our rescue group, Desert Lightning Team, mission partners and Tucson community," said Lt. Col. Jaymes Hines, 55th RQS commander. "The delivery of the HH-60W brings relevant rescue capability and capacity to bare now and for the future."
The HH-60W will further enable Airmen to execute the same rescue mission they have performed over the last two decades of conflict. The 563rd Rescue Group has accomplished its rescue mission in both civil and combat operations, saving dozens of lives, and the new Jolly Green II helicopter will ensure the group is able to continue this mission for many years to come.
"This state-of-the-art aircraft represents a significant milestone for the future of Davis-Monthan and our rescue Airmen who work tirelessly to save lives and defend our nation," said Col. Jose Cabrera, 563rd RQG commander. "With its advanced technology, survivability and lethality, the HH-60W will enhance the Air Force's ability to conduct combat search and rescue missions in even the most challenging of threat environments."
The upgraded airframe solidifies the Air Force's rescue capabilities in all warfare spectrums with improvements that not only boost the combat effectiveness for the aircrew, comprised of two pilots and two SMAs, but also for the pararescue teams and other special warfare Airmen who will utilize the platform to complete the rescue mission.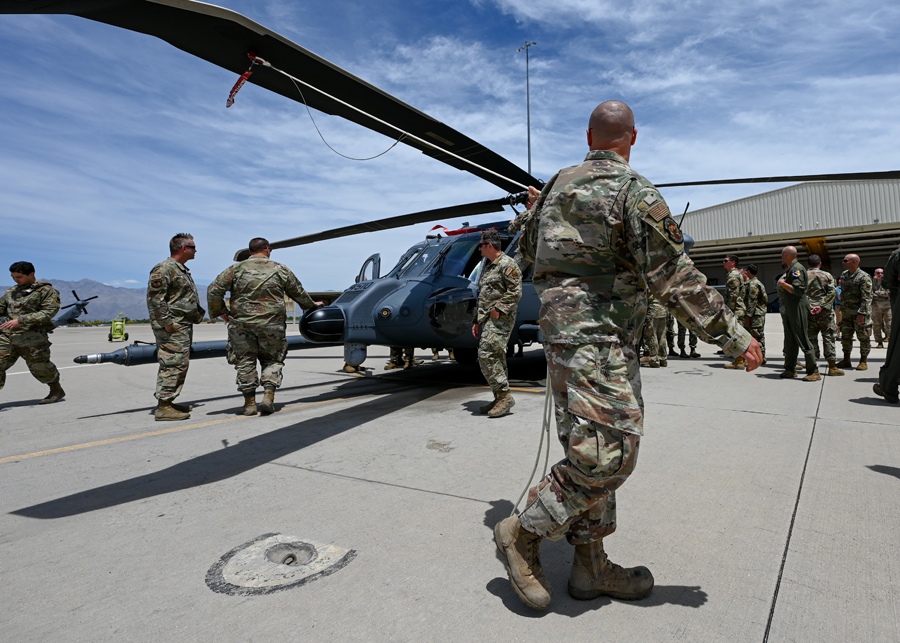 Refined avionics on the HH-60W include a flight management system coupled with a flight director system, weather radar, an improved electro-optical/infrared camera and over-the-horizon tactical data receivers capable of receiving near real-time mission and threat update information.
Additional mission equipment includes a 600-pound-capable hoist with 250 feet of cable, a personnel-locating system compatible with modern survival radios, two crew-served 7.62mm or .50 caliber machine guns and an 8,000-pound capacity cargo hook.
The transportation improvements are two-fold. First, the self-sustaining changes include a lengthened cabin, increased top speed, integrated fuel tanks, in-flight refueling probe and an increased allowed takeoff weight, furthering capabilities to provide airpower necessary to execute lifesaving actions for America and its allies. All HH-60Ws also have folding rotor blades to improve air transportability and shipboard operations, advancing the ability to project airpower anytime, anywhere.
"Our maintainers stand ready to integrate the Whiskey into our fleet," said Col. Clarence McRae, 355th Maintenance Group commander. "The maintenance team has diligently worked to gain the skills needed to sustain the Whiskey and they are ready to get the aircraft in the air. We all recognize the new capabilities and what it means to the rescue community and are ready to onboard our additional HH-60Ws slated for the future."
The HH-60W's capability improvements brought to the 355th Wing, an Air Combat Command designated lead wing, help ensure a more lethal, agile and resilient team that is prepared for the next fight.
"As we look towards our pacing challenge, Davis-Monthan must be ready to answer the call for rescue in any environment, and we'll make that happen with the Jolly Green II," said Col. Scott Mills, 355th Wing commander. "Rescue is more than a motto; it is a promise to every Soldier, Sailor, Marine, Airman and Guardian that if you are ever isolated from friendlies, no amount of threat or distance will stop us from bringing you home.  The Jolly Green II will help us keep that promise to our joint and coalition partners."