June 2023 marked a significant transition for the 355th Wing at Davis-Monthan Air Force Base, Ariz., as Chief Master Sgt. Michael Becker assumed the role of command chief.
As command chief, Becker advises the installation commander and staff on mission effectiveness, professional development, military readiness, training, utilization, health, morale, and welfare of the command's 6,200 enlisted Airmen.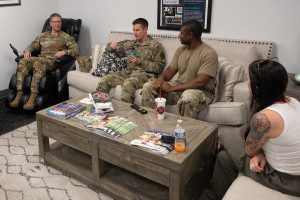 "We are thrilled to have Chief Becker here as part of our command team," said Col. Scott Mills, 355th Wing commander. "He is here to FIGHT, and I'm excited to see what we can accomplish together."
Raised in a military family, Becker's passion for service and dedication to protecting the United States led him to join the Air Force in February 1999 as an explosive ordnance disposal technician. Throughout his career, he has displayed a strategic understanding of the global threat environment and the critical importance of the Air Force's mission in maintaining national security.
With a career spanning 24 years, Becker brings a wealth of leadership experience to his new position. Having served in various leadership roles at different levels within the Air Force, including the position of command chief master sergeant of the 341st Missile Wing at Malmstrom Air Force Base, Mont., Becker is well-equipped to guide the Desert Lightning Team toward achieving their mission objectives.
Having previously worked in the realm of strategic nuclear deterrence, Becker brings a unique perspective on the threats posed by adversaries and the significance of combat readiness.
"In the missile world it is clear how and why each and every Airman is connected to that no-fail mission, 24/7/365," said Becker. "My experience in that mission has helped me understand the threats that our adversaries pose to our way of life and to the stability and safety of people around the world."
Now entrusted with leading the 355th Wing, Becker emphasizes the importance of translating his strategic perspective into the wing's mission of Rescue & Attack.
"Our job is to provide combat ready Airmen and capability to any Combatant Commander in any area of responsibility at any time," said Becker.
Becker stresses the need for demonstrating combat readiness to make adversaries think twice before challenging the United States.
"Again this is not negotiable," said Becker. "The fate of the world is at stake and failure is not an option."
To achieve these goals, Becker recognizes the fundamental importance of creating an environment where every Airman feels respected, protected, and connected.
He believes that fostering a culture that values each individual's contribution, regardless of his or her uniformed or civilian status, is crucial. Becker sets high standards for the