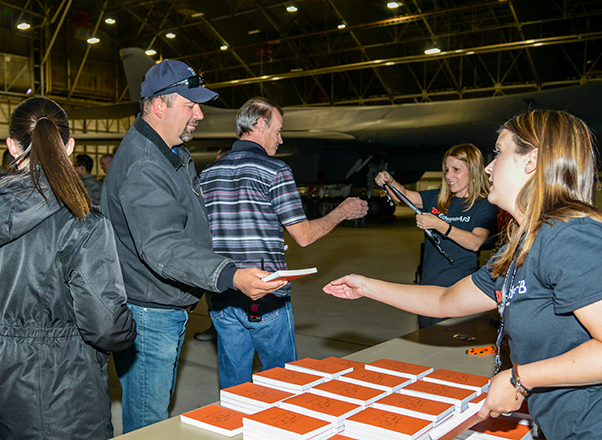 The 412th Test Wing's SparkED innovation team conducted a road-trip around the Edwards Air Force Base, Calif., to launch their new innovation challenge, Nov. 8.
This year's innovation challenge, dubbed Eddie's Challenge 19.2, is taking aim at innovative ways to increase work flow efficiency and also new test capabilities.
"We're really excited about the next step of our innovation journey, which is Eddie's Challenge 19.2, I say this is the next step of the journey, because we're never going to arrive where we want to be, but if we don't start matching towards that direction, we'll never get there," said Brig. Gen. E. John Teichert, 412th Test Wing Commander.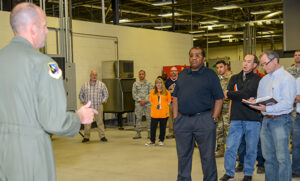 The commander accompanied the SparkED team around to various locations around the base to discuss the new innovation challenge and to give an idea of what the team is looking for. The SparkED team is asking Team Edwards to log on to the IdeaScale website at https://usaf.ideascalegov.com, to enter their ideas or look at other ideas.
By the time the team wrapped up their base-wide road trip, a handful ideas had already been submitted, said Cherie Head, SparkED Team Lead.
"Starting this morning, we already had ideas being entered into IdeaScale," Head said. "Even if you don't have any ideas, at least log on and look at other people's ideas and comment on them, and believe it or not, doing that will spark some ideas of your own."
Teichert acknowledged the success of last year's campaigns and touted local success such as the formation of the Spouse Hustle Squad and the Dragon's Lair tool available on the Edwards AFB app. He also noted that success of the Wing's Summer of Waivers campaign where the base submitted 96 waiver requests and 92 were approved or supported.
"We saw a slew of great ideas from around the base that we have grabbed onto and has made a massive impact," Teichert said. "We implemented 11 of them, we're still working on 26 of them, and out of that we have spawned the Spouse Hustle Squad that right now is working on six amazing ideas."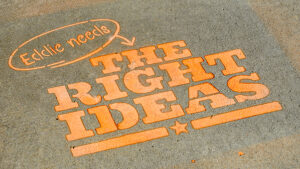 The success of last year's innovation campaign have also gained attention around the Air Force, Teichert added.
"People recognize that we're the hub of innovation for the United States Air Force and 38 projects have come to us," he said.
The submission deadline for Eddie's Challenge 19.2 is slated for Nov. 27, and voting ends on Dec. 13. The best ideas will then be showcased and selected, and ultimately, funded. SparkED team members said that advised Edwards personnel to not get discouraged if their ideas are not selected and noted the 412th Aircraft Maintenance Squadron's Staff Sgt. John Lemay and his innovation journey.
Lemay submitted two ideas last year, but neither of them were initially selected. Through other venues and his perseverance, his ideas; solar-powered golf carts for use on the flightline and fall airbags, are now being explored.
"We are here to help you with resources and expertise," Teichert said. "Only you know the problems that you need to solve."