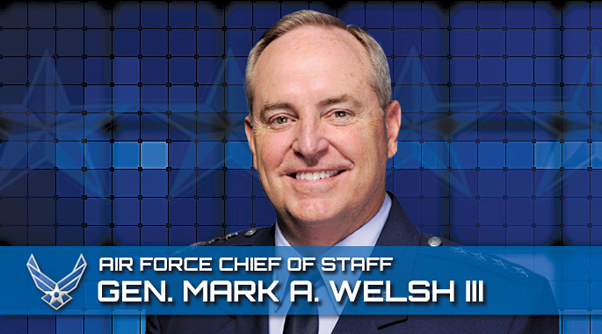 WASHINGTON (AFNS) — Chief of Staff of the Air Force Mark A. Welsh III teamed up with Google to launch a live discussion with Airmen from bases around the world, using video chat technology.
Airmen asked both the general and his wife, Betty Welsh, questions about Air Force life, ranging anywhere from future mission and operations, to key spouse programs. A few of the questions were more personal, focusing on how the Welsh's find time to reflect and relax, as well as advice on how military couples can make the most of their relationships.
"It doesn't matter if it's 30 seconds, or 30 minutes — you need to take the time to think about what you're doing and why it's important," Welsh said.
The question and answer session was live-streamed from Google headquarters in Washington, and came at no cost to the government.
"One of our biggest challenges in the Air Force is communication — there's no single perfect solution," Welsh said. "We're a big organization – you have to communicate via numerous methods if you're really going to reach Airmen. This was another way to do that and Betty and I had a blast."
To view the Google Hangout event, please visit https://www.youtube.com/watch?v=624Suq9a4xo