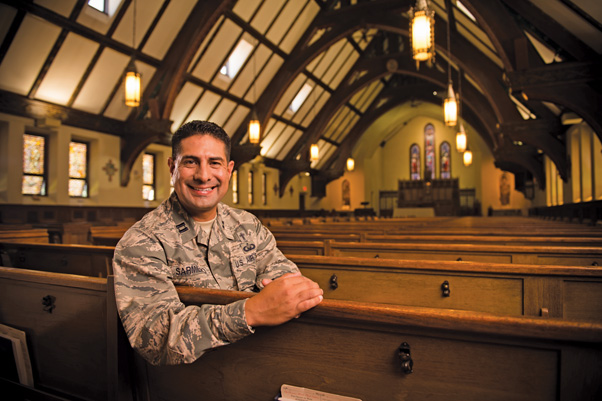 Back in August of 2014, the 163d Reconnaissance Wing Chaplain Major David Sarmiento had the opportunity to be featured in a new Air National Guard (ANG) Chaplain Corps recruitment infomercial, the first of its kind in many years. In addition to the commercial, many still photos were taken of Sarmiento and four others to create marketing posters, calendars, brochures, and other types of promotional items for the recruitment effort.
"I was very honored and humbled to be a part of something so special," said Sarmiento. "The feeling was surreal. The chaplains I had the opportunity to work with on this project were literally making history, reaching out to a new generation of chaplain candidates to carry on the Chaplain Corps legacy, which was started long ago by other great men and women that have chosen to serve."
The goal was to reach a qualified pool of chaplain applicants from all walks of life and faith groups from various seminaries and faith communities. The majority of the commercial was shot in Burlington, Vermont, home of the 158th Green Mountain Boys. In it, Sarmiento was featured sharing an inspiring and thought provoking message.
"The team at ANG Creative that was assembled to shoot this commercial is an incredible group of talented, unformed and civilian members that make up the team. Each member of the marketing team took the extra time to take just the right shot, create the right lighting, and choose the best venue to deliver an inspiring message. The countless hours they put into this project and every project is nothing less than amazing.  I have the deepest respect and endearment for them; without them there would be no one joining the Air National Guard. The manner in which they feature every job in the ANG is inspiring and I am grateful to have worked with such a talented group of men and women."
Sarmiento began his military career as an enlisted Airman in June of 1995, assigned to the 261st Combat Communication Squadron, in Van Nuys. He began his chaplain journey in April 2006, when he entered the Chaplain Candidate Program and later that same year attended Commissioned Officer Training School at Maxwell Air Force Base, Alabama. Upon completion of the program, Sarmiento was reappointed as a chaplain in the ANG, assigned to the 163rd Reconnaissance Wing here in 2009.
Sarmiento was later honored as the 2010 Chaplain of Year – Samuel Stone Award recipient for the Air National Guard Chaplain Corps recognized in January 2011 in Washington, D.C. by the then-General Craig McKinley, 26th Chief of the National Guard Bureau of the United States.  Sarmiento was chosen for the national level award from a group of eight nominees representing more than 300 Chaplains from throughout the United States and its territories, making him the first Hispanic American to receive this honor.
"My hope is that many outstanding men and women will be inspired to answer the call of service in the Air National Chaplain Corps," said Sarmiento.
"There are great Chaplains and Chaplain Assistants all over doing a great job in some of the darkest, farthest, reaches of the world in places we may never know," said Sarmiento. "To them I say thank you for the spiritual care you provide. You are not forgotten and I dedicate this commercial to you! You are the unsung heroes. Keep up the great work. You are making a difference each and every day."
To view the video featuring Sarmiento, use the following link: http://www.youtube.com/watch?v=6jycwRvAk-c