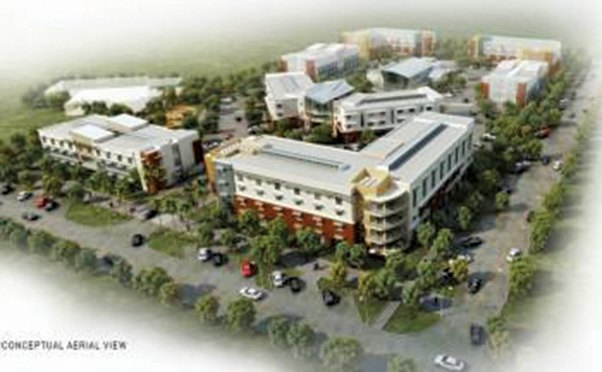 (usvetsinc.org)
U.S.VETS and other members of the California Association of Veterans Service Agencies (CAVSA) have been awarded first round Proposition 41 funding for six projects totaling more than $22 million in Sacramento and Los Angeles that will provide 392 units of housing and extensive supportive services for homeless low-income veterans.
"This first round of awards is a historic investment by the State of California in efforts to end veteran homelessness in California," said Steve Peck, president and CEO of U.S.VETS and president of CAVSA. "These grants will dramatically enhance our efforts to provide housing and intensive supportive services such as case management, drug and alcohol counseling, health clinics, disability benefit advocacy, mental health support as well as family and childcare services."
U.S.VETS is the development partner and service provider in two of the projects: March Veterans Village in Riverside, which will provide 150 units of permanent supportive housing and 50 transitional housing beds; and Liberty Lane in Redlands, which is 40 units of permanent supportive housing.
CAVSA is a consortium of six non-profit veteran service providers. CAVSA's geographic diversity facilitates the delivery of direct services in both urban and rural regions throughout the state, stretching from Eureka to San Diego.
CAVSA's mission is to address and promote the employment, training, education, housing, medical and business development needs of veterans and their families.