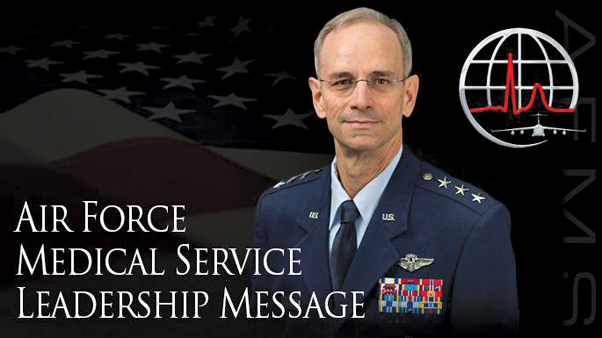 I am deeply honored to serve the Airmen and families of the world's best Air Force as the 22nd Air Force Surgeon General. I could not be more proud of the outstanding medical professionals with whom I serve–officers, enlisted and civilian Airmen–and those who laid the foundation for today's Air Force Medicine.
Our Air Force faces many challenges that require Airmen, including medical professionals, to be innovative, knowledgeable, adaptive, resilient, and disciplined. As we enter this crucial time in our history, we must prepare for and strive to deliver our vision of the best patient-centered, full-spectrum care to a rapidly changing and evolving Air Force. The people we serve place their trust in us every day–from permitting us to treat their wounds to delivering their babies and dispensing medication. That trust is something we must earn every day by keeping our duty to those we serve at the forefront and committing ourselves to Excellence in All We Do.
We have the solemn responsibility to support and enhance the health and performance of Airmen, the Joint Team and their families as we all meet these current and future challenges. I am excited about working with you as the Air Force Medical Service and the Military Health System continuously adapt our capabilities and performance to meet a dynamic mission.
I thank each of you for the care and support you provide to those we serve–your professionalism, resourcefulness, and expertise make "Trusted Care Anywhere" a reality each and every day.