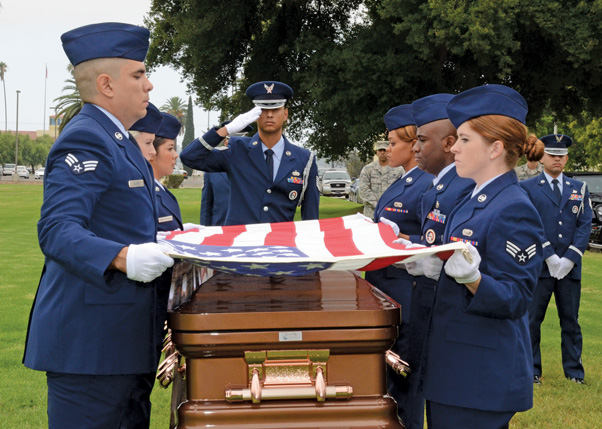 The March Field Blue Eagles Total Force Honor Guard graduated 11 new members at a formal ceremony here August 21, 2015, where Class HG-1, fiscal year 2015, was introduced to distinguished guests, Team March members, family and friends.
"Today's ceremony recognizes a total of 11 new graduates who have completed 80 hours of basic protocol, honors and ceremonies training," said Staff Sgt. John Hicks, the unit's NCOIC. "This course was established to provide training and procedural guidance for rendering proper military funeral honors."
The ceremony began with class HG-1 demonstrating a mock military honors funeral service that was narrated by Master Sgt. Darryl Willingham, training flight NCO, 452nd Aeromedical Staging Squadron.
"They have accomplished something that many people cannot do," said Willingham. "And today each one of our young champions that are graduating will be reminded of the light (honor, precision, attitude, and discipline) that was placed inside of them the day that they walked on."
Class HG-1's flawless performance is a reflection of the Honor Guard's primary mission toward honoring those who have served our nation.
"What I saw out there was unbelievable precision among the group," said Maj. Alan Tornay, deputy commander, 452nd Mission Support Group. "What the Honor Guard does on a daily basis to represent March (ARB) is truly outstanding."
Every movement, notable in their performance, was perfected individually and as a team.
"This is a direct result of their hard work, commitment to excellence, and a strong desire to serve and honor our Air Force heroes," said Hicks.
Becoming an Honor Guard member is more than just the precise drill movements and immaculate uniform appearance. It's about being entrusted to uphold the standards of all Airmen and be the epitome of perfection, Hicks said.
The ceremonial guardsmen is an individual of good reputation, having integrity, ethical conduct and exhibiting standards which merit respect; responsible for protecting and overseeing the maintenance of standards on and off duty, Tornay said.
The team's primary mission is to provide military funeral honors for active duty, retiree and veteran members who served honorably in the United States Air Force and Army Air Corp. The secondary mission is to perform military changes of command, retirements, retreats and other special functions.
Their area of responsibility extends from the Ventura County border to the Arizona and Mexico borders, and from the Pacific Ocean to the Nevada border, covering nearly 50,000 square miles.
"This is not something you just put on a uniform Monday through Friday to do," Tornay said when he addressed the class. "This is a 24/7 job and I thank you (HG-1) and your family for your level of commitment."
The Blue Eagles Total Force Honor Guard includes personnel from March ARB, Los Angeles and Edwards Air Force Bases, all in southern California, and is comprised of all three components; Regular Air Force, Air Force Reserve and Air National Guard.
"It is truly an occupation which requires outstanding devotion and commitment to duty," said Tornay. "By maintaining our history and exceptionally high standards, Honor Guards will continue to remain an icon of excellence."
Congratulations to the HG-1, FY15 graduating class: Senior Airman Miguel Aguirre, 56th Aerial Port Squadron; Senior Airmen Nicholas Avise, Amy Coleman and Airman Diana Torres-Cervantes, 452nd Force Support Squadron; Staff Sgt. Emerald Diehl, 163rd Force Support Squadron; Senior Airman Justin Martinez, 752nd Medical Squadron; Senior Airman Rene McKinney, 452nd Aircraft Maintenance Squadron; Senior Airman Noe Munoz, 452nd Maintenance Squadron, March ARB; and Staff Sgt. Johnathan Sabat-Figueroa, 412th Force Support Squadron, Edwards AFB.