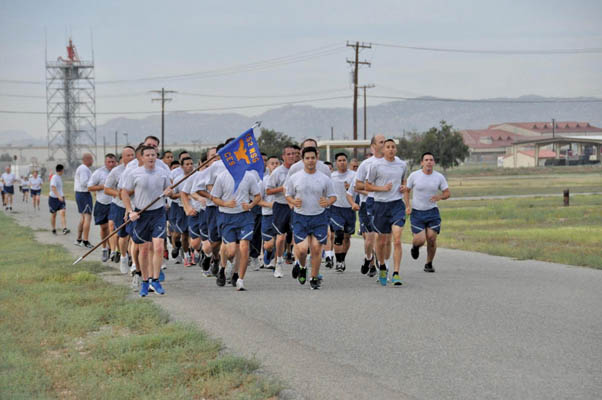 Team March members and families participated in the annual 1st Sergeant's 5K Remembrance Run here Saturday, Sept. 12, 2015. Each year the March Fitness Center joins the 1st Sergeant's Council to sponsor the event to raise money for the Airman's Relief Fund.
"It's an excellent fundraiser for an excellent purpose," said Master Sgt. Kyle Truelsen, first sergeant, 752nd Aircraft Maintenance Squadron. "We made at least $1,000 today for the Airman's Relief Fund, which is used for Airman in dire straits, such as losing their job or their home."
The event also coincides annually with America's Kids Run, a national event held at many different bases across the country and around the world, who provides awards and T-shirts for racers.
The two races have three combined categories: kids, adults, and squadrons. Squadrons compete in formation hoping to win the 1st Sergeant's traveling trophy, which is presented at the Military Appreciation Day picnic later in the day, and the year-long bragging rights that accompany it.
Four squadrons and nearly 100 individuals participated in this year's 5K. The run honors and remembers those military and civilians who have served and/or given the ultimate sacrifice.
"We had a really good turnout," said Pamela Smith, fitness center director, 452nd Force Support Squadron. "We like to see everyone come out and hopefully next year we can have more single, individual runners, as well as the units, and more kids."