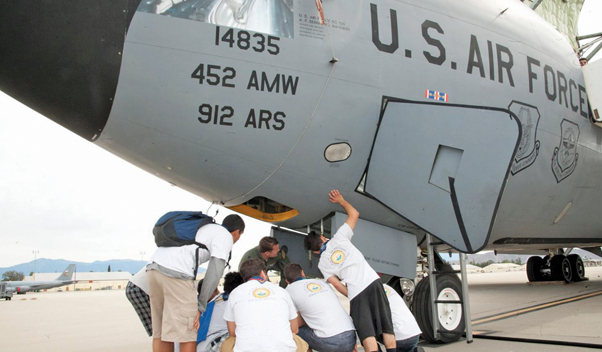 U.S. Air Force photo/Senior Airman Joe Dangidang
   Capt. Daniel Greer, KC-135 pilot, 452nd Operations Support Squadron, huddles with Armenian Scouting Troop 923 members, during their tour of the KC-135 Stratotanker at March Air Reserve Base, California, October 25, 2015. Greer walked the troops through an exterior inspection of the tanker and is shown discussing the landing gear.
"We have been trying to get on the base tour since April," said Shahan Atmaj, a troop member. "When we finally got a date, everyone was excited and couldn't wait."         
Troop 923's itinerary included a tour of the 452nd Air Mobility Wing's C-17 Globemaster III, the March Field Fire and Emergency Services location, personnel and equipment, as well as a weapons demonstration conducted by 452nd Security Forces Airmen.                                                   
"We can't wait to return," said Atmaj. "We are looking forward to coming back real soon, hopefully in April for the air show."