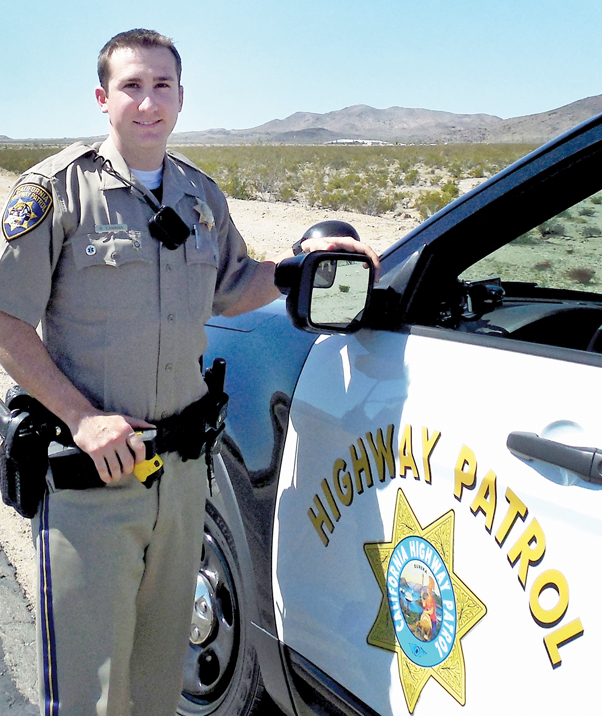 California Highway Patrol public information officer Ryan Camara was interviewed by the installation's Public Affairs Office. His comments are supplemented with related highway safety information from the AAA Foundation and CHP public Web sites. Officer Camara has been with the CHP for two-and-a-half years as a patrol officer and the public information officer for the High Desert area since October 2014.
1. How dangerous is texting and driving? In 2013, the California Department of Motor Vehicles reported more than 426,000 hand-held cell phone and texting convictions, with more than 57,000 tickets issued in April alone, according to the California Office of Traffic Safety. In 2014, 61 percent of California drivers surveyed said they had been hit or nearly hit by a driver who was talking or texting on a cell phone. In 2014, the CHP Barstow office recorded 327 cell phone citations in this patrol area.
2. Who's a typical texter? It's pretty common among young drivers … but really, they're across the board, from 16-years-old and up. I investigated a collision of a teenager on two-lane county road. She was texting while driving and was approaching a right-hand curve. She went into the other lane, saw she was in the wrong lane and pulled right to get back, and lost control. She went onto the right shoulder and up the dirt embankment and overturned several times. She was driving a two-door small passenger car. In this case, the air bag did not deploy because it wasn't a sudden stop. She was a local resident, driving on the National Trails Highway, west of Barstow.
3. What about hands-free cell phone holders or internet devices built into vehicles? Hands-free devices are legal and definitely a great tool to use. However, drivers can still be distracted. You can have both hands on the wheel, which is what the law wants, but still be distracted in your conversation, splitting your mind in two directions. It's important to realize you can still be distracted. Drivers should note that in using headphones, you can use only one earpiece. You need to have one ear able to hear sirens. I see people with ear buds plugged into both ears.
4. What are other types of distracted driving? I've seen people reading books, putting on makeup, getting into verbal arguments, focused on conversation, eating. I've also seen a person writing something while driving, on a notepad. Also, road rage – it's more common than you think. You see slow drivers, drivers that cut you off, weaving in and out of traffic, speeding up when someone tries to pass you, brake tapping. If that happens, call 911, but let the person continue on. Don't provoke or be provoked.
5. How about sleepy drivers? We see that a lot, with long, straight freeways here. If you're the only driver in the vehicle, stop somewhere to get coffee, or stay at a hotel. If you're on the freeway, stay off the emergency lane. The right-hand shoulder is not the place to park. On and off-ramps are also not good, where people are speeding up and slowing down. Get completely off the highway and find a safe location. Lock your doors and roll up the windows, if you have to stay in your vehicle.
6. Other driving tips? Use the three-second rule. Maintain a safe distance between yourself and the car in front. Find a fixed object that the car in front of you passes, then count three seconds. You should be passing the object on the count of three. Flow of traffic rule? That's an unfounded myth. There is no law that says that you can go faster than the posted speed limit. Also, I've been told by people driving to Fort Irwin during early morning hours that drivers are keeping their high beams on. Be sure to turn them off when approaching other vehicles. Don't blind them and cause an accident. The CHP Web site is a good reference tool. Local live traffic incident information is at www.cad.chp.gov.
7. What should you do when you see an emergency? If you see emergency lights behind you, slow down and navigate your way to merge to the right shoulder. Don't go into the center divider (median strip), even if you're in the far left lane. If you see emergency lights ahead, whether police, fire, or CALTRANS you are required by law to move to the lane away from the shoulder, or to slow down to a safe speed. Tractor trailer trucks are required to move over to the next lane and slow down, when they see a tractor trailer on the side of the road. Sometimes they do that unsafely, so keep your eyes on the road ahead and anticipate a truck might be moving into your lane, or slowing down considerably.
8. Does CHP have any driver safety programs? For teen drivers, we have a Start Smart program for them and their parents to teach new drivers how to drive safely and show the dangers of driving. Call the Barstow CHP office at (760) 255-8706 and ask for Officer Camara. The two-hour class can be scheduled during the week, weekends or after hours, when we have enough people for a class. We also have a class for senior drivers, called Age Well, Drive Smart. It's often tough to know when to give up your keys. The class is not to take away the keys, but to teach seniors so they can extend their driving time. I did one at Barstow senior center the other week and also at the Barstow community hospital. Each class is about one to two hours. It's a fun class with videos and discussions. For both classes, attendees get a certificate of completion that some auto insurance companies may give you discount for attending.