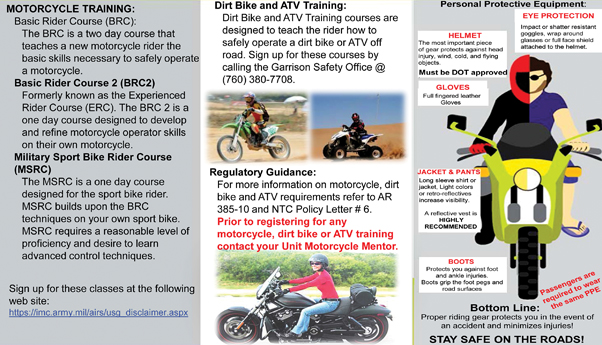 Motorcycle accidents continue to be a leading cause of accidental death in the United States Army.
During fiscal 2014, 34 Soldiers were killed while riding their motorcycles, a figure that represents approximately 43 percent of all private motor vehicle fatalities occurring during the year. While leader engagement and enhanced training opportunities have advanced rider safety during the past several years, greater awareness is needed to ensure all Soldiers are prepared to ride in a safe and disciplined manner.
Each year, the National Highway Traffic Safety Administration designates May as Motorcycle Safety Awareness Month. The observance coincides with the beginning of riding season for many Soldiers and also serves as an early kickoff for the critical days of summer. To enhance your unit's motorcycle safety program, visit https://www.safety.army.mil for valuable training tools.
Accidents can be reduced, or at times prevented, by choosing the correct motorcycle, having the proper equipment and training. Training and equipment requirements are found in Department of Defense instruction 6055.4, "DoD Traffic Safety Program," and appendix B of Army regulation 385-55 "Prevention of Motor Vehicle Accidents." Riding skills are learned, therefore attendance in a motorcycle safety foundation (MSF) approved course should be the first step for all riders.
Motorcycle safety courses are required and provided by Army installations. All riders must meet the requirements of the MSF course, which is provided to Soldiers and DOD civilians free of charge. Information on MSF courses and their contents can be found at http://www.msf-usa.org/.
The Army Progressive Motorcycle program is designed to keep motorcycle operator training current and sustain or enrich rider skills. Fort Irwin offers courses for servicemembers and the program consists of the following: Basic Riders Course, Experienced Riders Course/Basic Riders Course 2, Military Sport Bike Riders Course, Advanced Rider Course, Motorcycle Refresher Training and Motorcycle Sustainment Training.
For more information about the courses and how to register call 380-7708.