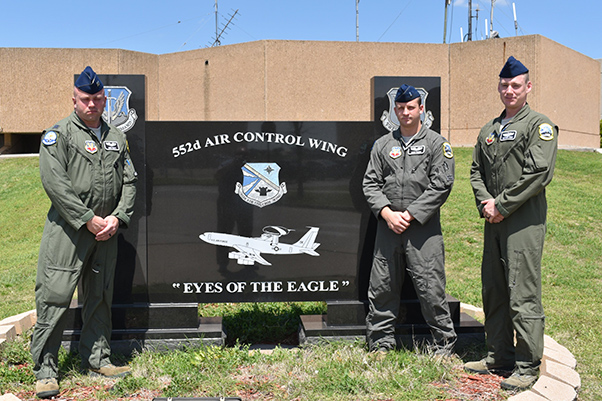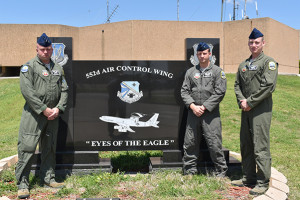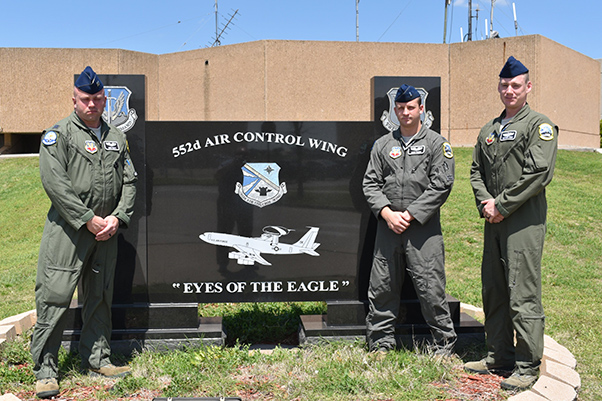 What started as an ordinary day for three Airmen from Tinker Air Force Base, Okla., soon turned into anything but.
Their quick reaction and application of the Air Force's Wingman concept saved a life May 10, 2017.
Capt. Justin Phelps and 1st Lt. Camden Rogers of the 960th Airborne Air Control Squadron, 552nd Air Control Wing at Tinker Air Force Base, were returning to base from lunch when they spotted a woman leaning over the edge of the bridge at I-40 near the Tinker gate.
"We were stopped at the red light and looked toward our left, and a woman was on the top of the bridge looking over, visibly crying and upset," said Rogers.
Realizing that something wasn't right, the two immediately took action. After pulling their car over to the side of the road, they scrambled up the grassy embankment attempting to engage the distraught woman. Spotting the two men climbing the embankment, Tech. Sgt. Corey Irwin, 552nd Operations Support Squadron, stopped his truck on the median of Air Depot Boulevard to block traffic and distracted the woman by talking to her from below, allowing Phelps and Rogers to get close to her.
"My instinct was, 'Maybe I could catch her,'" said Irwin. "Probably unrealistic, but if nothing else, it was a human face for her to see and to distract her."
Not only did Phelps and Rogers have to worry about the woman jumping, they also had to contend with high-speed traffic on the interstate.
The woman, who was upset over family matters, told the two men that nobody cared and she just wanted to die.
Phelps knew it didn't look like a good situation.
"I've had too many friends, military and otherwise, that did not reach out prior to committing suicide, and sadly they're no longer with us," he said. "So it's good to be able to help someone. If they are having a bad day, sometimes it just takes a good wingman getting involved and talking to one another."
Phelps and Rogers eventually talked the woman into moving off the bridge and on to the side of the road until the Midwest City Police Department arrived to take her into protective custody and get her some help.
"This courageous action speaks volumes, and also reflects highly on the United States Air Force," said Midwest City Police Chief Brandon Clabes. "From a law enforcement standpoint, this mental health crisis had the strong potential of a violent and tragic outcome."
Clabes added this crisis was diverted through unselfish actions by active military members of Tinker Air Force Base and "they saved one of the most precious things our world has to offer: a life."
Airmen at Tinker Air Force Base are trained in basic first aid, as well as being able to identify and assist someone who might be in need.