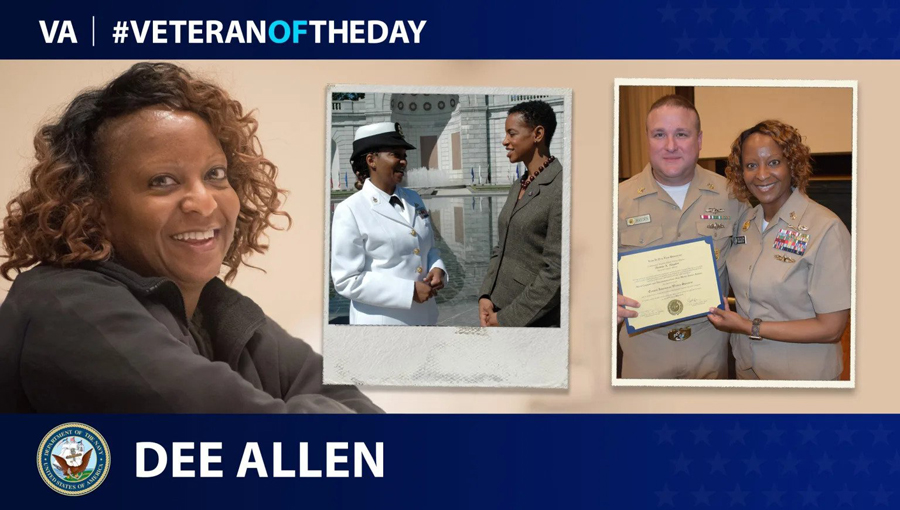 Dee Allen was born in Birmingham, Ala. In 1997, she completed her undergraduate education at the University of Maryland, where she majored in criminal justice and behavioral science. Allen pursued her degree while simultaneously serving in the U.S. Navy.
Allen joined the Navy in 1986, first serving as a seaman recruit. She then enrolled in the U.S. Navy Cryptologic Technician School in Pensacola, Fla. She then began serving as an administrative assistant at the National Security Agency. She also served in Japan—in Misawa and later Okinawa.
After returning to the U.S., Allen served in several locations. In her first few roles she served as an administrative officer, security manager and legal officer, an administrative leading chief petty officer and an administrative leading petty officer. She returned to Pensacola before boarding the USS Frank Cable, joining the Chief Naval Operations Staff to serve as a deputy executive assistant and serving as a senior enlisted advisor at the Chief of Naval Personnel Staff's Office of Women's Policy, where she volunteered to serve in the Combined Joint Task Force in the Horn of Africa.
After serving in these positions, Allen held several leadership roles, serving as senior enlisted leader at USS George H.W. Bush, as a command master chief in Norfolk, Va., as an installation command master chief and as a regional command master chief. In her final military role, she served as the command master chief for the 10th Fleet, the U.S. Fleet Cyber Command, giving advice to the commander of a personnel team formed of 14,000 service members and training senior leaders. She served in that role for more than three years before retiring in 2020.
After her 34-year Navy career, Allen transitioned to the private sector, founding her own company, Dee Allen Consulting N Coaching, where she provides leadership training. She is currently pursuing a doctorate at Northcentral University.
We honor her service.