Plane Crazy Saturday at the Mojave Air and Space Port — Rutan Field is set for 10 a.m.- 2p.m., Nov. 18, 2023.
This month's special presentation is "Achievements of the X-57 Maxwell." Timothy Williams, a NASA research test pilot, will talk about the Maxwell program.
Williams presentation starts at 11 a.m. in the MASP board room. Seating is limited, so please R.S.V.P. to info@mojavemuseum.org.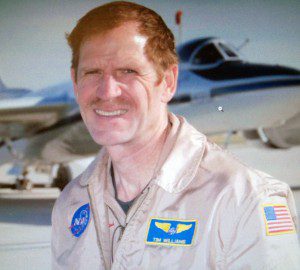 Additionally, the event will feature an historic aircraft fly-in, and static displays. Historic aircraft forms will be signed.
Williams is a research test pilot at NASA's Armstrong Flight Research Center at Edwards, Calif. He flies airborne science and test aircraft and is a team member on test programs, supporting mission planning, procedures and safety-related operational elements.
Williams flies a diverse array of science, research and mission support aircraft at Armstrong. He was the project pilot for NASA's first all-electric experimental aircraft, the X-57 Maxwell, and flies the U-2 high-altitude science aircraft, C20A environmental science research aircraft, F/A18, T-34C and TG-14 research motor-glider.
He retired from the U.S. Air Force with the rank of lieutenant colonel. During his military career, Williams served as a C-130 commander during multiple campaigns; a U-2 instructor pilot at Beale Air Force Base Calif., and a project pilot on the Edwards Air Force Base airborne laser program.
Williams holds bachelors and master's degrees in electrical engineering from the California Institute of Technology. He is a graduate of Class 98B at the U.S. Air Force Test Pilot School at Edwards Air Force Base.
No dogs or other animals, other than service animals, are allowed on the flightline, and the flightline is a 'no smoking' area.
Thank you to our sponsors: the Mojave Air and Space Port; Stratolaunch, Aerotech News, Scaled Composites, Comfort Inn & Suites, the Loop Community Newspaper, Gold Age Flight Museu, the Rosamond News, Golden Queen Mining Company, Thom Lapworth — Civ Mil Support, Voyager Restaurant, and Karl's Hardware with locations in Mojave, Rosamond, and Boron.