This past Veterans Day, retired U.S. Marine Corps and Army veteran Maj. Billy Hall celebrated the 82nd anniversary of his graduation from Marine Corps Recruit Training with the Marines of Marine Light Attack Helicopter Squadron 267, Marine Aircraft Group 39, 3rd Marine Aircraft Wing, during an honor flight over Camp Pendleton and the Laguna Beach Veterans Day celebration, Nov. 11, 2023.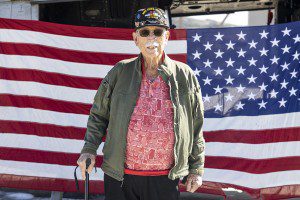 Hall and the Marines of the HMLA-267 "Stingers" flew over Heisler Park in a UH-1Y Venom helicopter, waving at the crowd during the Laguna Beach Veterans Day celebration ceremony. Hall enlisted in the Marine Corps in August 1941 at 15 years old, just four months before the attack on Pearl Harbor. As a Marine and Army officer, Hall has seen combat in three wars: World War II, the Korean War, and the Vietnam War.
"The Marine Corps is the epitome of having the ability to do whatever is necessary, to move in and go wherever you are needed," Hall said. "It is the place to be."
The 82nd anniversary of Hall's graduation from Marine Corps Recruit Training also means that he has been a Marine for one-third of all Marine Corps birthdays; the Corps celebrated its 248th birthday on November 10th. The Marines of HMLA-267 volunteered to fly Hall for the Laguna Beach Veterans Day celebration to honor his service, legacy and dedication to the Corps, and as a tangible salute to the nation's heroes.
"This is truly an honor to be in touch with history and be reminded that once a Marine, always Marine," said Maj. John E. McArthur, a UH-1Y Venom pilot with HMLA-267. "Veterans Day means honoring the services and sacrifices of those before us. I get to do my job because of what they've done before, and we are carrying the torch for them now. It is a huge honor."
Hall deployed to Guadalcanal in 1942 as a radioman and gunner in a Douglas SBD dauntless dive bomber and later in the Grumman TBF Avenger torpedo bombers. By age 17, he had flown more than 100 combat missions and in 1945 completed 50 TBF anti-submarine and enemy shipping patrol missions.
In 1948, Hall joined the California National Guard, deploying to Korea as an Army infantry and communications officer in 1951, devising methods of radio communication improvement and securing the placement of communication lines.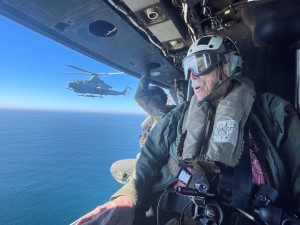 Hall retrained as a helicopter pilot during the Vietnam War. He played a critical role in delivering 75 helicopters to Vietnam, and during his nine months in Vietnam, he flew 50 insertion, extraction, supply, and medical evacuation missions.
At 97 years old, Hall is believed to be the last living veteran to have enlisted before Pearl Harbor and see combat action in World War II, Korea, and Vietnam. He served his country from 1941 to 1967 and his awards include the Bronze Star, Combat Infantryman Badge, World War II Victory Medal, Asiatic-Pacific Campaign Medal, American Campaign Medal, Korean Service Medal, and Vietnam Service Medal.
"When people come to me and say thank you for your service, I respond with 'you are worth it, and thank you to you and your families for providing me a country worth fighting for," Hall proudly says.