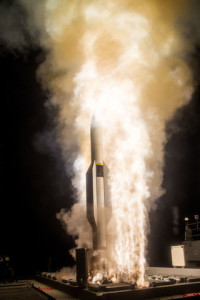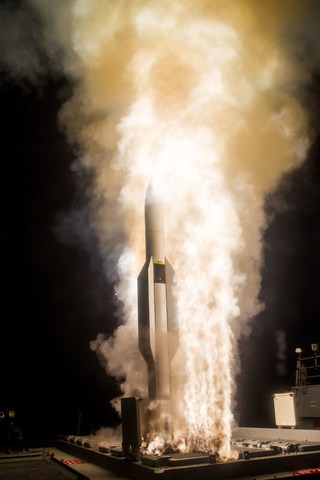 TUCSON, Ariz.–The U.S. Department of Defense has approved the release of Raytheon's Standard Missile-6 to several international customers. Many of the approved countries are seeking the multi-mission SM-6 to bolster their shipbuilding programs.  
SM-6 currently provides U.S. Navy vessels with extended-range protection against fixed- and rotary-wing aircraft, unmanned aerial vehicles, cruise missiles and ballistic missiles in the terminal phase of flight. Earlier this year the missile was also successfully tested as an offensive effector against targets on the ocean's surface.
"International navies are seeking the level of sophisticated protection that SM-6 provides," said Mike Campisi, Standard Missile-6 senior program director. "The flexibility of this multi-mission effector drives significant savings for our partners and allies; it's the exact opposite of a boutique missile."
SM-6 continues to go further and faster. It shattered the record for the longest range surface-to-air intercept in September of this year – a milestone it set, and broke, twice before.
In April 2015, Raytheon delivered the first full-rate production SM-6 from its $75-million, 70,000-square-foot SM-6 and Standard Missile-3 all-up-round production facility at Redstone Arsenal in Huntsville, Alabama. Raytheon has currently delivered more than 300 SM-6 missiles with continuing production. 
* SM-6 delivers proven over-the-horizon, air defense through the time-tested advantages of the Standard Missile's airframe and propulsion.
* SM-6 delivers multi-mission capability for long range Fleet Air Defense, Sea-Based Terminal Defense, and Anti-Surface Warfare.
* SM-6 uses both active and semi-active guidance modes and advanced fuzing techniques.
* It incorporates the advanced signal processing and guidance control capabilities from Raytheon's Advanced Medium-Range Air-to-Air Missile.