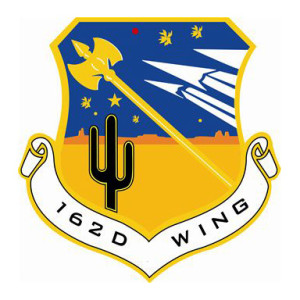 Members of the 162nd Wing in Tucson, Ariz., expressed an overall favorable outlook of the organization's effectiveness and culture through the recent climate survey, but they did cite the need for improvement in areas like communication and feedback.
"I am proud to see that the 162nd Wing team has such high esteem for our collective performance and values, but I also appreciate the constructive feedback from this survey," said Brig. Gen. Andrew MacDonald, 162nd Wing commander.
The Defense Equal Opportunity Management Institute (DEOMI) Organizational Climate Survey (DEOCS), was distributed to personnel base-wide, from January through early April this year. DEOMI issued a summary of the survey results in late April.
According to DEOMI, the survey posed a series of questions focusing on organizational effectiveness, equal opportunity, and sexual assault response and prevention. Based on confidential responses, each measured area was marked with one of four categories:
* Excellent: 90 percent and above favorable responding
* Adequate: Between 70 and 89 percent favorable responding
* Caution: Between 50 and 69 percent favorable responding
* Improvement Needed: Below 50 percent favorable responding
 
Regarding organizational effectiveness, the wing's effort toward "engagement" ranked highest with 89% favorable responses. "Organizational processes" ranked the lowest with 76% favorable responses. Other factors that were measured included commitment, senior leadership, organizational performance, group cohesion, trust in leadership, and job satisfaction.
Respondents had the opportunity to provide general comments, as well as their opinions of communication and performance feedback. Based on their responses, the 162nd Wing Equal Opportunity office identified top-down communication, as well as mixed, poor, or a lack of feedback as specific areas for improvement.
"Communication is a vital component of any organization, and it is consistently one of the most challenging," said Brig. Gen. MacDonald. "However, if our Airmen can recommend more effective and meaningful ways to exchange and share information, wing leadership wants to hear about it. Communication is a two-way street, and we are listening."
The DEOMI report also revealed how the wing measured with equal opportunity priorities. The wing averaged an adequate grade for all EO sections, but its lowest measure of favorable responses was for the discrimination category, with 77 percent positive responses. Specifically, two percent of respondents reported that within the past year, someone in their work place made "sexual 'jokes'" that made them "uncomfortable, angry or upset."
"If you turn on the television or look on social media, there is an unnerving trend of people using racist, sexist and offensive language. But I hold our Airmen to a higher standard than that," said Brig. Gen. MacDonald. "Our policy on discriminatory attitudes and behavior is zero tolerance, and that means any instance of discrimination is too many."
The last focus area of the survey assessed elements of the Sexual Assault Prevention and Response program and measured respondents' knowledge of it. Overall, respondents expressed satisfaction with the program's efficacy, however just more than half did not understand the difference between restricted and unrestricted reporting processes. 
Within the SAPR program, if a military member first reports a sexual assault to a healthcare professional, a victim advocate, or even their base sexual assault response coordinator, their report can remain "restricted." That means that their chain of command is not notified, and there will be no investigation, but the member can still get the medical care and counseling support they need. However, if a service member contacts their chain of command or law enforcement first, their report would be considered "unrestricted," resulting in an investigation.
"The important thing for Airmen to know is that if they were to report to their SARC first, they do not have to tell their chain of command, or they may choose to tell their chain of command later," said Julie Williams, 162nd Wing Sexual Assault Response Coordinator. "However, by making an unrestricted report to their chain of command first, that report cannot revert back to a restricted status after."
In an effort to solicit input and ideas about communication, performance feedback, or any other functions, wing leadership encourages Airmen and civilians to use their communication tools, like the Innovative Ideas pop-up, the Commander's Action Line, and also, their chain of command.
"Assessing our cultural climate is the first step in the process of this cycle," said Brig. Gen. MacDonald. "Getting to the next steps of finding ways to improve requires communication and collaboration."
Wing members can find the Innovative Ideas pop-up on their computer work station by logging in. The Commander's Action Line can be found at http://www.162wing.ang.af.mil/Contact-Us/Commanders-Action-Line/.