Throughout history there have been pioneers and trendsetters who, through their grit and determination, were not afraid to go places and pursue dreams that at the time seemed impossible. These people paved the way for others to follow.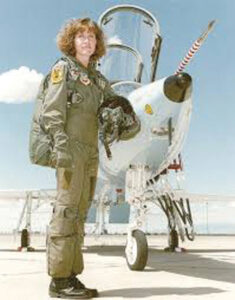 One such person is Maj. Gen. Jeannie Leavitt. In 1993, she became the first female fighter pilot, and in 2012, she became the first woman to command an Air Force combat fighter wing.
Leavitt was born in St. Louis. Her father was in the Air Force at the time of her birth.
She hit the ground running after graduating from high school in 1985. She pursued higher education before joining the Air Force in 1991, earning a bachelor's degree in aerospace engineering in 1990 from the University of Texas and a master's degree in aeronautics and astronautics in 1991 from Stanford University, California.
It was time for her to launch her Air Force career.
Leavitt's debut was at Laughlin Air Force Base, Texas as a student, undergraduate pilot from January 1992 to March 1993. Her following assignment from March to July 1993 was as a T-38 instructor pilot upgrade trainee, Vance AFB, Oklahoma. During this time a major development would have a profound effect on her career.
Restrictions on women flying combat missions were dropped in April 1993.
As a result of the lifting of these restrictions, Leavitt became the first female fighter pilot in the Air Force.
She arrived at Luke AFB in July 1993 to commence her student pilot training in the F-15E Strike Eagle. She was attached to 555th Fighter Squadron and finished her training in April 1994.
Leavitt's career has been a plethora of flying combat missions and commanding squadrons and wings, as well as furthering her education.
She has more than 3,000 hours in the F-15E Strike Eagle, Northrop T-38 Talon and Cessna T-37 Tweet. Her F-15E Strike Eagle flight hours have included 300 combat hours, mostly over Iraq and Afghanistan.
Some of her principal command assignments have included commanding 333rd Fighter Squadron, Seymour Johnson AFB, North Carolina in 2008 and serving as commander of 4th Fighter Wing at the same base in June 2012.
Leavitt became the commander of the 57th Wing, Nellis AFB, Nevada in 2016 and is currently the commander of the Air Force Recruiting Service, Joint Base San Antonio-Randolph, Texas.
What's more, she earned three additional master's degrees between 2002 and 2010, which included an MBA from Auburn University in 2002, a Master of Military Operational Art and Science from the Air Command and Staff College, Maxwell AFB, Alabama, in 2004, and a Master of National Security Strategy from the National War College, Washington D.C., in 2010.
Besides all of her commands and education, she has received numerous awards and decorations, which include the Defense Superior Service Medal, Legion of Merit with oak leaf cluster, Bronze Star Medal, Defense Meritorious Service Medal with three oak leaf clusters, Meritorious Service Medal with three oak leaf clusters and the Air Medal with four oak leaf clusters.
However, with all of Leavitt's achievements, one of her greatest assets is her ability to listen to ideas no matter where they come from. She calls it a diversity of ideas. These beliefs come from her view of the rank structure and the chain of command.
"In the military everyone is familiar with our rank structure and chain of command," she said in a 2018 TED Women Spotlight. "I really see the commander and command staff at the bottom of the organizational chart. I truly see diversity as a competitive advantage. What we want to get is diversity of thought.
"If you have people around the table who think very differently and that have different backgrounds, you have diversity of thought around the table and then you're able to come to a better solution. It's going to take longer. There will be vastly different opinions, but we will get to a better solution in the end."
Not only that, one of Leavitt's attributes is being directly engaged with Airmen regardless of rank or status.
"One of my favorite techniques is something we call walking around," she said. "My command chief and I would get in a car, and we would drive somewhere and talk to Airmen."
She added that no one would know ahead of time who would receive a visit.
"I want to hear the feedback directly from Airmen," she said. "They appreciated the interest we took in their jobs and what they were doing. Anyone can have a good idea, and quite honestly, some of the youngest Airmen have some of the best ideas."
Leavitt said that it is vital to support the people under her command and thus empower them to achieve the mission.
"My job as a commander is to support the people and to make sure they understand the importance of what they do," she said. "If I enable people, they will take care of the mission."
Leavitt said when she leaves the Air Force she wants to be remembered for three attributes.
"I want to be remembered as a leader, a mentor and an outstanding fighter pilot."
In all, Ed Bolen, National Business Aviation Association president and CEO summed up Leavitt with the highest praise and accolades.
"She is an inspiration, especially to those in aviation who have worked to break down barriers of all types," he said. "She exemplifies the dedication to duty and love of country and aviation that our industry personifies."
Editor's note: Contributors to this story include the National Business Aviation Association, Wikipedia and 56th Fighter Wing historian, Rick Griset.