Desert Lightning News – Digital and print publication serving Davis-Monthan AFB, Tucson AZ and surrounding communities. An AerotechNews.com Publication.
Click on the image below to view this month's digital edition.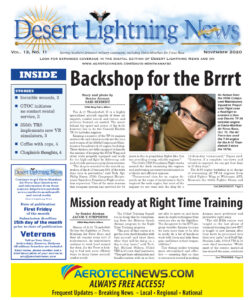 Hello, fans and friends, and welcome to the November 2020 edition of Davis-Monthan AFB Desert Lightning News! Our lead story this month takes a look at D-M's 355th Component Maintenance Squadron's engine backshop – the airmen behind the "BRRRT!" of one of our favorite aircraft, the A-10 Thunderbolt. The "Warthog's" two General Electric TF-34 turbofan engines are the secret behind its speed and power. Click on the link below to learn more about the vital part these engine experts play in the operation of the A-10 in the latest issue of Desert Lightning News, viewable on your computer or mobile device.
https://online.flipbuilder.com/vzwd/jdqq/
Here are some more highlights from this month's issue:
355th Wing chaplain resiliency coin serves as post-deployment resource: page 2

GTOC initiates no-contact vehicle rental service: page 3

Coffee With Cops: page 4

Photo feature – 563rd Rescue Group trains for high end fight: pages 6 & 7

Airman Leadership School Distance Learning Course to be released: page 9
All this and much more, in this edition of Desert Lightning News! Hard copies of the paper will be available at various distribution points on base and in surrounding communities starting November 6th.  "Like" our
Facebook
page for daily news updates – we now regularly cross-post news and features from the military bases we serve throughout the desert Southwest, as an extension of our military and defense community. As always, THANK YOU for your support – it's our privilege to serve you! Be safe and be well.  #aerotechnews #dmafbnews #desertlightningnews