The 355th Component Maintenance Squadron Fuels Flight conducted confined space emergency action training at Davis-Monthan Air Force Base, Ariz., Nov. 13, 2020.
This annual training was accomplished to ensure Airmen's readiness in case of an on-the-job emergency.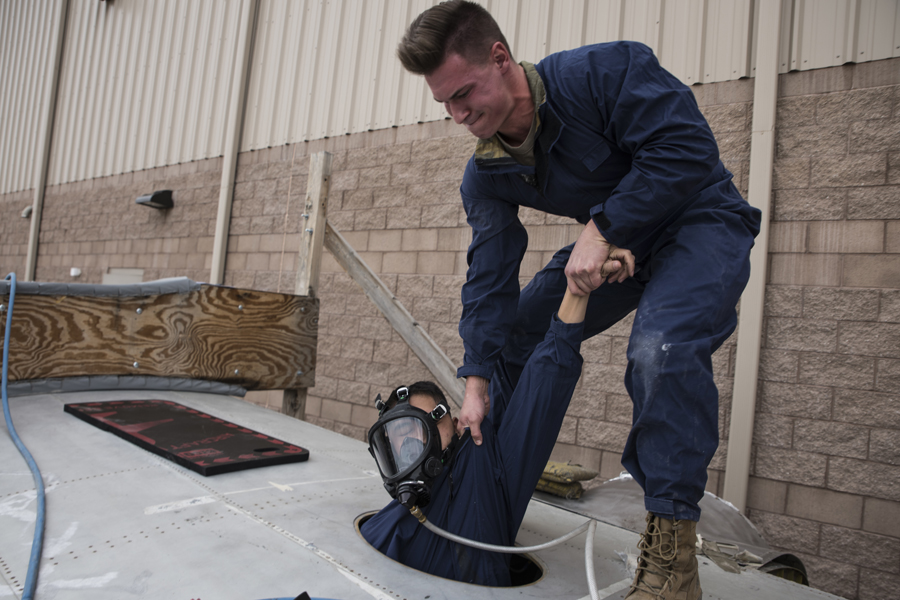 "This practice allows us to exercise pulling an incapacitated Airmen out of a confined space and perform emergency procedures as defined by our standards," said Senior Airman Zachary Watkins, 355th CMS aircraft fuels systems troop. "This training goes through the entire process, which includes getting the Airman out of the fuel tank, calling emergency services, change the respirator and starting to perform CPR."
The quality of this training was enhanced by using a recently acquired C-130 wing to give more realism to the type of confined space that will be seen in a real-world situation.
"Training these situations is vitally important because it can happen to anyone at any time and we must know what to do," said Airman 1st Class Eric Macklin, 355th CMS aircraft fuels systems troop. "We have to be able to rely on the people around us to work as a team in the event that something happens that requires us to execute these procedures in a real-world situation."
Teamwork is a critical element to mission success in any facet, but relying on the Airmen you work with is even more important when faced with a potential life-or-death situation.
"The on-base fire department, bioenvironmental flight from the Medical Group and safety at the squadron and wing-level are all involved in this training," Watkins said. "By getting everyone on the same page makes sure that in these situations, we are able to preserve our wingmen's life."
Working in confined spaces can create potentially hazardous situations and training for any possible scenario is critical to ensure the safety of the Air Force's most valuable resource, its Airmen.