While following guidelines to mitigate the spread of COVID-19, the 355th Wing commander held a series of virtual all calls with limited in-person attendance on Dec. 4, 2020, at Davis-Monthan Air Force Base, Ariz.
U.S. Air Force Col. Joseph Turnham held his first all call since taking over command of the wing in an effort to reiterate the importance of his mission, vision and priorities; and exercising the Dynamic wing for the Airmen of Davis-Monthan.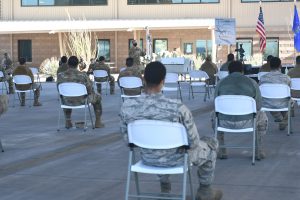 For Turnham, this was an opportunity to also highlight operations under the mitigation of COVID-19, as well as the strategic importance and operational depth throughout the concepts of agile combat employment and dynamic forward adaptive basing.
Turnham began his speech by explaining why the concept of the Dynamic Wing is important and how the role of Airmen across the wing play a critical part in achieving the mission of the national defense strategy.
"We can't keep performing our operations the same way," Turnham said. "We are working toward the Dynamic Wing to be able to offer operational depth to combatant commanders and to continue to lead the Air Force in building operational readiness for the high-end fight."
Turnham not only reaffirmed the wing's mission, vision and priorities through its commitment to theater partners and allies, but also the commitment in building multi-capable Airmen that can function in a variety of facets, whether at home station or in a contested and austere environment.
"First and foremost, our mission is to rescue and attack and that's true of every Airman assigned to the 355th Wing, not just our pilots and pararescuemen," Turnham said. "The Dynamic Wing is unique to the mission and vision of Davis-Monthan and we will accomplish it through our priorities of readiness, resiliency and relationships. We must be ready at all times to accomplish the mission downrange. Through our individual and collective resiliency, we are able to sustain blows and continue fighting. None of us fight alone and the relationships we foster allow us to have a helping hand before it becomes too much to handle or too late to get away from."
Following a speech from Turnham, Airmen, whether virtual or in-person, were given the opportunity to do a live question and answer session with the commander. Airmen maintained social distances of nine feet and wore mask to comply with regulations set by the CDC, the city of Tucson and the state of Arizona.
Turnham, alongside Air Force senior leaders, is committed to ensuring that the Air Force's most valuable resource, its Airmen, are taken care of and are being heard. Holding these all-calls, virtually and in person, was one way to confirm that Airmen understand the importance of the mission. Their contribution to ensuring the success of Davis-Monthan's rescue and attack mission will enable the wing to defeat, deter and win against potential adversaries in any environment.