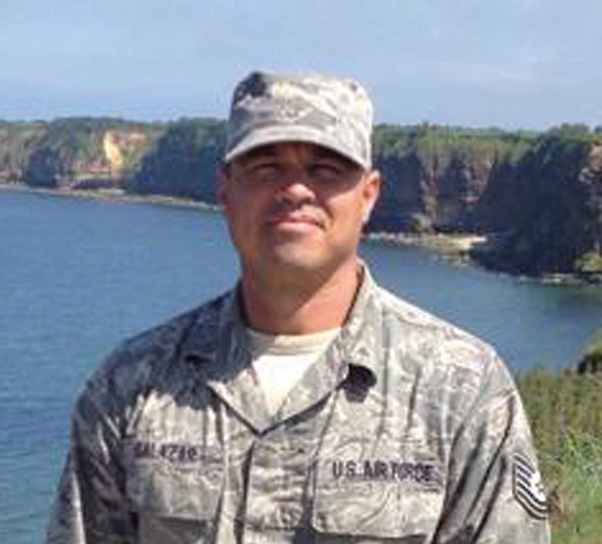 Technical Sergeant Anthony E. Salazar
August 31, 1974 – April 13, 2015
Tech. Sgt. Anthony "Tony" Salazar, mechanical systems repairman, 452nd Civil Engineer Squadron, March Air Reserve Base, California, died Monday April 13, 2015.
Salazar lived in Hermosa Beach, California and had been a member of the Air Force Reserve for seven years. He entered active duty military service in August 1995 and joined the 452 CES in January 2008. Salazar was committed to the Air Force mission and deployed multiple times, including two deployments to the United Arab Emirates. In June 2014, he was a member of a small team of 452nd Air Mobility Wing members who supported the 70th Commemoration of the D-Day landings in Normandy, France (pictured). As a Team March member, he helped complete several high-profile engineering projects, including reconstruction of the Heacock drainage channel in September 2014. Throughout his career with 452 CES, he was regarded as the hardest working member of his team, and served as a leader and mentor to younger troops. He was currently enrolled in a bachelor's degree program at Trident University.
He is survived by his son, Hunter; parents, Patricia and Eddie; sister, Desiree and many friends. Memorial and funeral arrangements are pending. For more information, contact Tech. Sgt. Omar Barraza at 951-655-3015 or Maj. Tricia Betts at 951-655-6786.