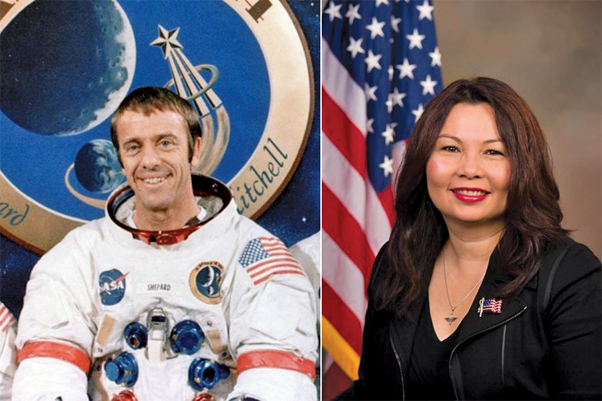 October is National Disability Employment Awareness Month (NDEAM), a nationwide campaign that raises awareness about disability employment issues and celebrates the contributions of America's workers with disabilities—past and present.
Alan Shepard was the first American in space and the fifth person to walk on the moon. His hard-charging nature made him successful throughout his career.
In early 1964, Shepard experienced recurring bouts of disorientation, dizziness, vomiting, and ringing in his ears. Shepard knew something was dangerously wrong. He was diagnosed with Ménière's disease, a disabling medical condition.
A panel of NASA medics pulled Shepard from the flight rotation and grounded him.  He chose to stay with NASA, and was reassigned to a desk job.
In 1969, Shepard was restored to full flight status. At the age of 47, he was the oldest astronaut in the program when he commanded Apollo 14.
Congresswoman Ladda Tammy Duckworth is an Iraq War Veteran.
In 2004, she was deployed to Iraq with the Illinois Army National Guard as a Blackhawk helicopter pilot.  She was one of the first Army women to fly combat missions during Operation Iraqi Freedom.
Her helicopter was hit by a rocket propelled grenade.  She lost her legs and partial use of her right arm in the crash.  She was awarded the Purple Heart for her combat injuries.
Duckworth spent the next year recovering at Walter Reed Army Medical Center alongside Melissa Stockwell.  She quickly became an advocate for her fellow Soldiers, and testified before Congress about caring for veterans and wounded warriors.
In 2013, she became the first Asian American woman elected to Congress in Illinois, and the first combat-disabled woman to be elected to the U.S. House of Representatives.