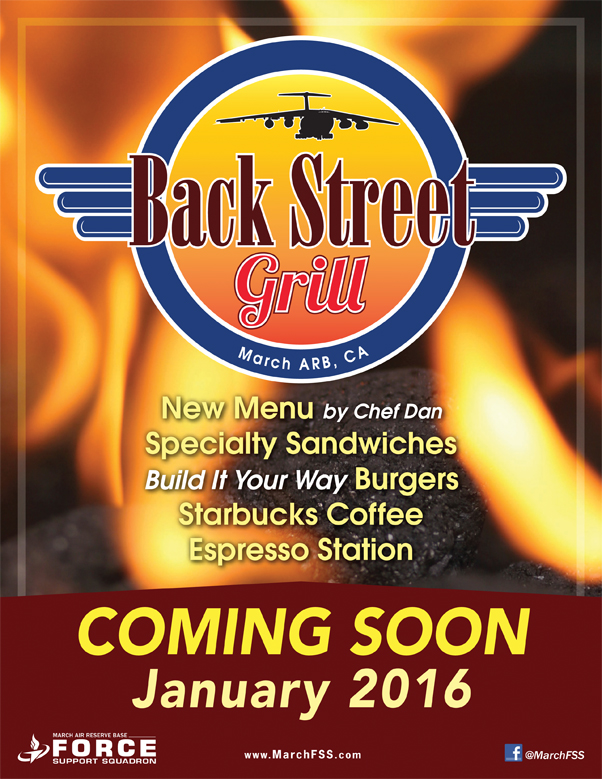 The Back Street Café closed in June 2015 to undergo a facelift in both the facility and menu items in an effort to promote health and wellness as part of the Healthy Base Initiative (HBI) Program.
The Healthy Base Initiative project launched in 2013 at 14 Department of Defense installations to improve the health and well-being of members of the defense community, including DOD employees and family members.
The newly renovated state-of-the-art facility will feature new lighting and furniture to provide a more inviting atmosphere, an improved serving line, digital menu boards, a revamped menu, new stations such as a salad bar and Starbucks coffee – espresso station, and a lounge.
The improved menu will include a variety of healthier options ranging from specialty sandwiches, burgers and weekly specials, to soups and salads. "I really believe customers will enjoy the new diverse menu," said Chef Dan, Hap Arnold Club chef. "Customers can expect great tasting food at a reasonable cost."
Comment cards will be available in the facility to give customers a chance to provide feedback regarding the renovated facility. "Feedback from our customers, whether it be good or bad, is critical to the success of our mission to ensure we are providing the best quality service to our base community," said Mike Gaines, club manager.
The grand opening for the newly named Back Street Grill is tentatively scheduled for January 8, 2016. Stay informed at MarchFSS.com and by following on Facebook @ MarchFSS.