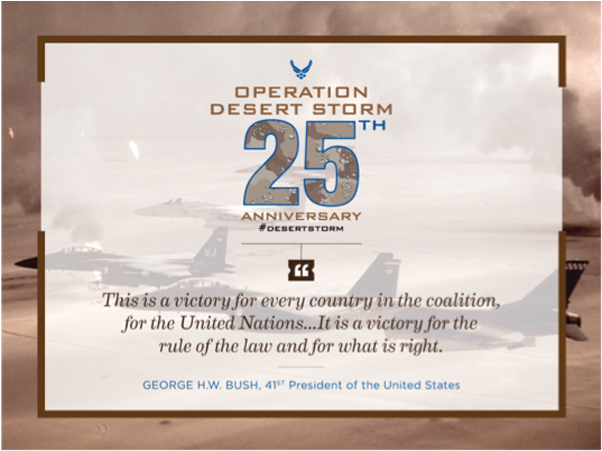 Twenty-five years ago coalition aircraft led the largest air campaign since the conflict in Southeast Asia on 16 January 1991 following Congressional concurrence with UN efforts to enforce a resolution that demanded Iraq's withdrawal from Kuwait. The attacks drove Saddam Hussein and his leadership underground, heavily damaging critical military support networks such as command and control, communications and intelligence capabilities, integrated air defenses and power generation. On 28 February 1991, President George HW Bush suspended combat operations and declared Kuwait liberated.
Then
Desert Storm marks the first conflict in history to make comprehensive use of stealth and space systems support capabilities against a modern, integrated air defense.
The direct contributions of a strategic air campaign, supported by the employment of revolutionary technology by Total Force Airmen (Active Duty, Guard and Reserve) and the Coalition, enabled battlefield success.
U.S. forces brought new weapons to the fight, including stealth aircraft, global positioning devices and precision guided technologies — these proved essential in neutralizing Iraq's more than 700 combat aircraft, "state of the art" air defenses, and anti-aircraft artillery pieces.
Stealth technology integrated with precision guided munitions put every aircraft available into the fight.
For the Air Force, the initial phase air campaign sought air superiority. It used an arsenal of more than 30 aircraft types flying more than 69,000 sorties, ultimately propelling the Air Force to gain and maintain control of the air domain.
Coalition air, ground and naval forces were greatly aided and made more combat lethal due to employment of space technology — weather satellites, US LANDSAT multi-spectral imagery satellites, GPS, early warning satellites, tactical receive equipment and related applications satellite broadcast, the Tactical Information Broadcast Service and communication satellites. Space integration was vital to the Coalition kill chain.
Now
Today, Airmen carry out their five core missions (Air and Space Superiority; Intelligence, Surveillance, and Reconnaissance; Rapid Global Mobility; Global Strike; and Command and Control) through air, space and cyberspace providing Global Vigilance, Global Reach and Global Power for America.
Technology employment during Desert Storm revolutionized the way we fight our wars today — game-changing technology like 'autonomy, hypersonics, directed energy and nanoscience' will make and keep the fight unfair for future challenges the our Nation may face.
The entire world is integrating Space services, debuted during Desert Storm, into every aspect of modern society, including such diverse elements as agricultural applications, transportation, public safety, and entertainment
Space is integral to the way we conduct military operations; it is more than just an enabler for other domains; space capabilities directly impact the efficiency and effectiveness of national security operations.
Fast Facts
More than 60,830 Total Force Airmen were deployed in support of Desert Shield/Desert Storm forward operations.
Approximately 69,406 sorties were flown by 30 different aircraft (A-10, B-52, C-12, C-130, C-141, F-117A, etc.) in support of Operation Desert Storm.
More than 9,300 laser-guided bombs (LGBs) were dropped out of a total 220,000 bombs on enemy targets.
Allied aircraft downed more than 39 Iraqi aircraft in air-to-air combat and damaged more than 375 (of 594) hardened aircraft shelters.
When the AF deployed in support of Desert Storm there were 134 combat-coded fighter squadrons; today we have 54 +1.
Military GPS receivers (842) and commercial (4,490) assisted forces at sea, on land, and in the air.
During Operation Desert Shield/Desert Storm, Airmen performed the most rapid airlift in history: nearly 472,800 people and some 465,000 tons of cargo to the Persian Gulf in eight months.
More than 130,000 passengers and 700,000 short tons of cargo were shipped in the month of January alone.