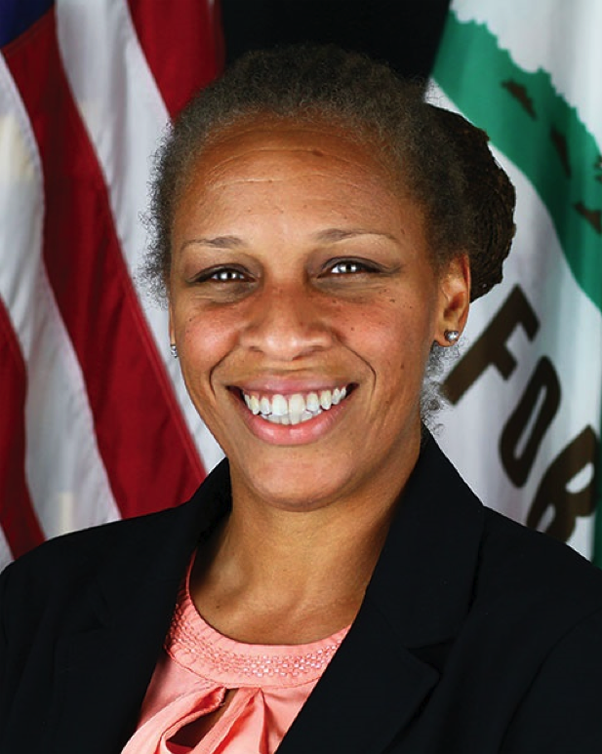 Master Sgt. Carla J. Thornton, acting first sergeant, 452nd Aeromedical Evacuation Squadron, was appointed to the California Veteran's Board by Governor Edmund G. Brown Jr. on February 11, 2016. As a veteran, member of a military organization, and California resident, Thornton met the requirements to serve on the board and applied in 2012.
It wasn't until the current California State Appointments Secretary Mona Pasquil provided training in the local area, that Thornton (who attended that training) asked Pasquil if her 2012 application had been received.
"She contacted me after the training, I filled out the application, provided letters of recommendation, and then it moved up from that point," Thornton said.
"I consider myself a community servant, helping 1.8 million vets in CA by serving as their voice on the board," Thornton said. "Helping the California Veterans Department to continue to provide outstanding benefits is what being an active community participant is all about."
Thornton, 37, of Moreno Valley, will attend her first meeting in Sacramento at the end of this month, although her senate confirmation, which involves reviewing applications and conducting interviews, is pending and could take up to six months.
Being active at the state level gives Thornton the opportunity to help Veterans, not just individually, but in the community as a whole, she said. This was her chance to be more instrumental in ensuring that California Veterans are getting the best benefits available, she added.
Most board members are from northern California, Thornton said. The board is lacking representation from this area, women, and other groups. Her appointment will diversify the board, she said.
"My input will hopefully bring about more change for Vets who live in this region," she said. I'm still trying to grasp things, but a high priority is the Veterans' homes, with each being represented by a board member. I've been assigned to the Lancaster home," Thornton said. "My job is to keep its residents healthy, provide them with resources, and ensure they are living in a safe environment."
Thornton spends her Reserve time as an acting first sergeant, and is also a volunteer victim advocate. Through those positions she has become more familiar with benefits that the Veteran's Administration provides to individuals who have experienced a sexual trauma, which, in turn, helps her understand and be able to explain those benefits better.
"Based on her disposition and her experience, she is an ideal first sergeant and spokesperson for Veterans," said 2nd Lt Jim Lambert, assistant director of operations, 452 AES. "She is a voice for Veterans as well as members of the 452nd AES. Her positions complement each other," he said. "She sees the basic needs as a first sergeant and is in touch with what's really going on."
Being involved in her community helps Thornton serve as role model for her seven-year-old daughter and other military members, she said.
"We should be active participants. It's my life-long value system to be involved in the community," she said.
Thornton, who will receive a small stipend to compensate her for travel to and from meeting locations throughout the year, earned a Master of Social Work degree from the University of Southern California School of Social Work, and a Master of Arts degree in management from the University of Redlands. She said that in addition to her social work degree, her sub-concentration was community organizing and planning in Administration, opened her eyes to macro-level social work, and how social workers can have a direct impact on individuals by changing their communities.
There are resources and benefits at the state level that can have an impact on Inland Empire (IE) Veterans. Thornton said she looks forward to the opportunity to bring that information to her local communities. She said she brings to the table the perspective of what issues are specific to the IE homeless Veteran population that may be different from homeless Veterans in other parts of the state.
"It's a real honor. California has more vets, 1.8 million and growing, more women vets, more vets from under-represented groups, more homeless vets than any other state, and I'm proud to have the opportunity to help them," she said.
As a civilian, Thornton is associate director of development at the University of California, Riverside. Her former experience includes fund development coordinator at Human Options. She said she would like to be able to work in community organizing/advocacy full time, and after her daughter is grown, would love to be able to be in the state assembly or congress, to make more of a local impact.
Her military goals are to complete the First Sergeant course, be the best first sergeant she can be, and ultimately become a command chief.
"The timing was right, I spoke up and pursued the opportunity," Thornton said. "Don't be afraid to let people know you are interested."