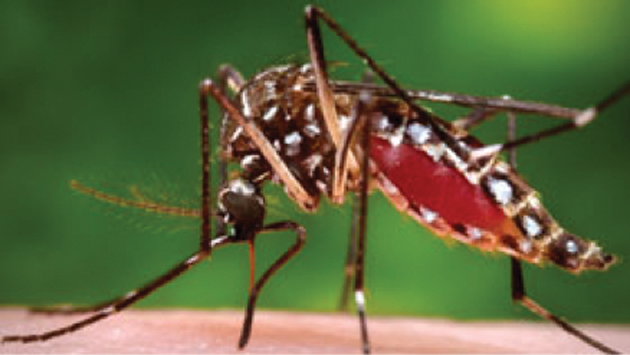 FALLS CHURCH, Va. — The Air Force is closely monitoring the emergence of Zika virus infection in the Americas, Oceania, and Africa to help inform and protect Airmen and their families.
The Department of Health and Human Services, with its Centers for Disease Control and Prevention (CDC), is leading the U.S. response to the worldwide Zika outbreak with support from multiple other U.S. federal departments and agencies including Department of Defense.
"What we know about Zika virus continues to evolve, and we're focused on providing consistent, science-based guidance to protect our Total Force Airmen and their family members," said Col. (Dr.) John Oh, Chief of Preventive Medicine, Air Force Medical Support Agency. For example, CDC recently reported that sexual transmission of Zika virus is possible. Oh said Zika virus updates have been communicated to Air Force Medical Service staff to quickly prevent, detect, and respond to any potential cases in patients.
Humans become infected by Zika virus primarily through the bite of an infected mosquito. Only about one in five persons infected with Zika virus becomes ill. Symptoms may include fever, rash, joint pain, conjunctivitis (red eye), muscle pain, and headache. Most infections are mild, lasting several days to a week, with complete recovery the norm, according to CDC. There is new evidence of a potential link between Zika virus infection during pregnancy and a particular birth defect.
"There may be a link between Zika virus infection during pregnancy and the baby having microcephaly, which is a birth defect where the baby's head is smaller than expected. Babies with microcephaly often have smaller brains that have not developed properly," said Oh. "It's understandable that people are concerned. You have a virus that people have never heard of, it's spread by mosquitoes, which makes all of us feel vulnerable, and there may be a link with a devastating outcome in babies," he said.
  The CDC recently advised women who are pregnant to consider postponing travel to any area where Zika virus transmission is ongoing, and women who are trying to get pregnant should consult their healthcare provider before traveling. So far, the few Zika virus infections diagnosed in the Continental United States (CONUS) have occurred in travelers to countries or territories with ongoing Zika virus spread, according to CDC, and there has not been local Zika infections spread by mosquitoes in CONUS.
For those who are in areas with ongoing Zika virus spread, Oh said the best way to prevent infection from Zika virus and other mosquito-borne viruses, such as dengue and chikungunya, is to prevent mosquito bites by using air conditioning or window and door screens when indoors, wearing long sleeves and pants, using permethrin-treated clothing and gear, and using insect repellants when outdoors. When used according to product label, insect repellants registered by the Environmental Protection Agency are safe to use on children and pregnant women.
To prevent Zika virus from spreading to CONUS, particularly in the southern states that have the mosquito species which carries Zika, dengue, and chikungunya, Oh said we must remove standing water where mosquitoes can breed, such as buckets, birdbaths, dog bowls, old tires, gutters, and other containers.
To prevent sexually transmitted Zika infection, according to CDC, men who live in or have traveled to an area with Zika infection and who have a pregnant partner should abstain from sexual activity or consistently and correctly use condoms for the duration of the pregnancy.
For more information and the latest public health updates on Zika virus, visit CDC.gov.