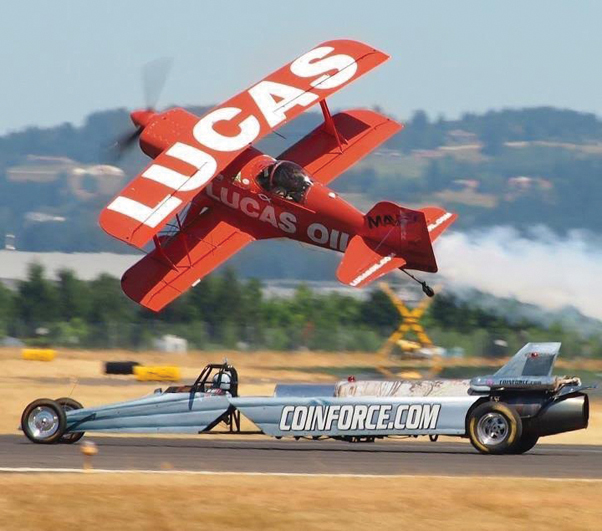 One of the most riveting events at an air show is the moment Smoke-N-Thunder JetCar takes on a plane in a race to the finish line. Who is the fastest, by land or air? Accelerating from zero to almost 400 mph in just nine seconds, Smoke-n-Thunder JetCar is the fastest JetCar in the air show industry.
The JetCar pilot, Bill Braack, is a 20-year Veteran of the Air Force Reserve. He knows there is no room for error when handling a car that is equipped with a 12,00 horsepower engine. As a plane flied in low and fast, Braaack selects full afterburner and overtakes the plane in just seconds.
Braack began drag racing in 1982 and three years later joined the Air Force as an aircraft maintainer. Longing to fly, Braack got his pilot license in 1989 and began flying C-130s as a flight engineer. He left active duty Air Force in 1991 and joined the Reserve, where he continued flying as an engineer on the C-141 Starlifter until his 2005 retirement. Braack holds FAA ratings as a flight engineer and pilot, logging more than 3,000 flight hours.
Aviation is adventure. Whether it be Michael Wiskus tumbling the Lucas Oil Pitts at dizzying rates with his own special brand of high-performance aerobatics, or the Lucas Oil Skydivers chasing one another in freefall before their precision landings, Lucas Oil Airshows aims to bring the adventure to you.
For the millions of people in America and Canada who come to watch Lucas Oil Airshows it's an adventure. For their team aviation is their passion. While many are content to take the magic of aviation for granted, they strive to show you flight's adventurous side – all it takes is a difference in perspective.