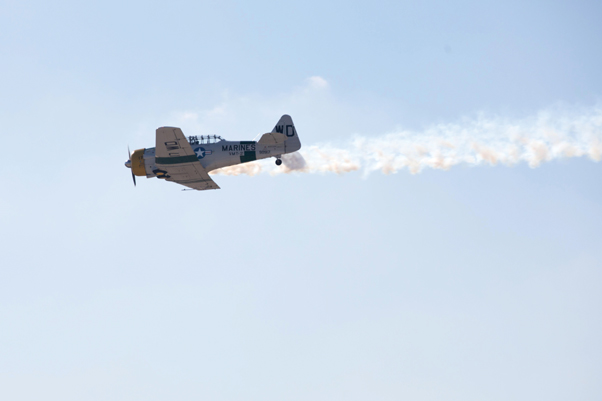 John Collver has an aviation career spanning more than three decades and over 14,000 hours of flight time in over 50 types of aircraft.  His career includes time in the Goodyear Blimp, flying for television, as well as teaching and competing in the aerobatic arena.  In addition, John formally flew for the Northrop/Grumman corporation supporting the U.S. military for over a decade.
War Dog was built in Texas in 1944.  First stationed at Marine Corps Air Station El Toro, then six months later transferred to Miramar Air Station.  Several years and numerous duty stations later, War Dog was retired from the US Armed Forces and was assigned to the Japanese Self Defense Force until 1974.
Due to be scrapped, as was the demise of many World War II warbirds, it was at this time War Dog was discovered and saved by Warbirds West in Compton, California.  They sent the plane back to the states where it was completely rebuilt to its original condition.  It was at this time John became War Dog's new owner.
War Dog has logged over 10,000 hours on her airframe and had nine Pratt & Whitney Wasp radial engine replacements or overhauls by 1997.  She is a tough airplane that still has plenty of flight hours left thanks to the meticulously detailed maintenance John regularly performs.
War Dog, with a wing span of 42 feet, a length of more than 29 feet, and a performance speed of 212 miles per hour, will go the distance to perform an aerobatic routine that will leave spectators breathless.  For those Veterans that learned to fly the AT-6/SNJ, it is a sight that will leave you teary eyed. For the memories of training to be aviators, the same maneuvers and techniques they were once taught as fighter pilots and the war time experiences long ago will return renewed as if it were yesterday.
There is no doubt in the minds of those observing the loops and rolls performed by John and his sidekick War Dog to the sounds of patriotic military tunes that this performance is more than its visual appearance.  Their performance is a living tribute performed by an unyielding dedicated individual and his plane to honor the men and women serving today and in the past, living or deceased.
The aerial demonstration performed by John and War Dog is without a doubt an act that thrills spectators young and old.  It stirs their patriotic hearts and generates a high level of excitement within each spectator.