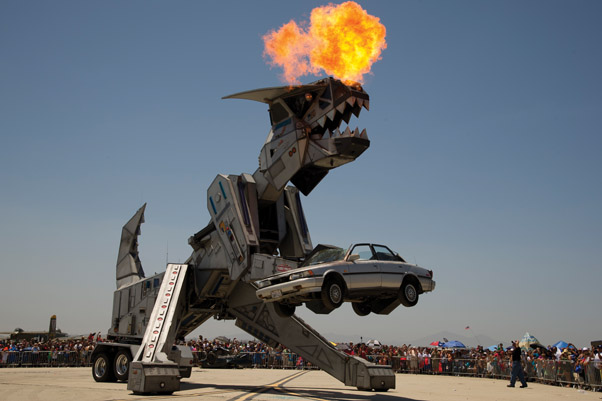 Brace yourself to meet the ferocious spectacle that is Robosaurus: the 30-ton, fire-breathing, transforming T-Rex that eats cars and planes for an afternoon snack.
Robosaurus travels the country in the guise of a semi-truck, but when he gets ready for action, he transforms into a 40-foot tall metal dinosaur with power that dwarfs even his pre-historic ancestors.
When Robosaurus gets down to business, he faces his adversaries with 20-foot bursts of flames that shoot from his nostrils, and jaws that produce 28,000 pounds of biting force per square inch crushing cars and planes as if they were toys. This is truly a mechanical beast you want on your side.
Robosaurus can lift 4,000 pounds and his booming voice is powered by a 6,000 watt onboard sound-system. He's controlled by a specially trained pilot strapped inside his cranium, who manipulates 18-hydrolic functions simultaneously.