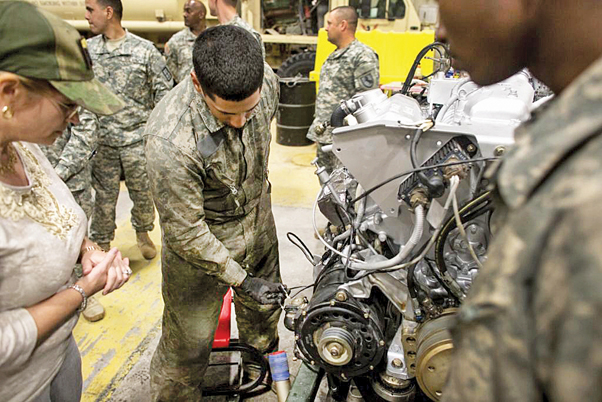 The 11th Armored Cavalry Regiment is at the forefront of U.S. Army logistics by leading the service in the transition from the Standard Army Management Information System to the Global Combat Support System – Army, a new computer-based system designed to manage the Army's supply chain.
The GCSS-Army is a single logistical information system that tracks equipment, maintenance, purchasing and accountability.
"GCSS-Army is based on a commercial industry software program called SAP (Systems, Applications, and Products), and SAP is used by logistics organizations across the globe," said Kathleen Miller, Assistant Deputy Chief of Staff (Logistics) for the Department of the Army.
Miller traveled here to see how Soldiers of the 11th ACR are implementing the new system.
"It's used by large automotive companies, large engine manufacturing companies, and airline and airframe manufacturers – so, it's a known commodity in the commercial industry," Miller said.
She explained that what was done in cooperation with the Army's systems integrators was use a special version of SAP – a defense forces public sector that has been developed specifically for armies.
The transition is part of a broader Army goal to achieve 'end-to-end' transparency by 2017, in accordance with the 2010 National Defense Authorization Act. Yet by and large, it is about improving the Army.
Unlike STAMIS, GCSS-Army is a centralized system that overcomes the shortfalls of the former STAMIS 'stovepipe' construction. When technicians refer to a 'stovepipe system' they are referring to a system made up of several software programs for handling separate tasks, but often rely on secondary programs to communicate. The redundant information infrastructure had in the past, led to miscommunication between users, adding unnecessary cost when meeting supply demands.
As a single program, GCSS-Army can instead, follow a piece of military equipment from the time it is purchased until it arrives on station. The system then predicts the maintenance upkeep and anticipates additional parts or maintenance needed to support the lifecycle of the original product. By GCSS-Army overcoming the obsolete 'stovepipe' system, the supply chain is instead linear.
The 11th ACR's mission at the National Training Center is to serve as the opposing force for units training at NTC – in what amounts to a simulated combat environment. The undertaking requires a large amount of logistical support and puts heavy maintenance demands on an array of tactical and tracked vehicles.
Miller said that by having the 11th ACR integrate GCSS-A in a simulated combat, it allows the Army to use GCSS-A in a context as if it were at war, without having to test the system in a real deployed environment.
"This regiment has an amazing reputation around the Army as being able to take hold of new things, new concepts and put them in a context for the Army to learn from," Miller said.
Although STAMIS also sought transparency and accountability, GCSS-A brings corporate practices of efficiency to the Army supply chain concept. Where corporations seek to maximize efficiency for the sake of profit, the Army seeks to maximize efficiency for the sake of making the most of federal funding while increasing combat readiness worldwide.
Specialist Jalissa Rucker, an automated logistics specialist assigned to Maintenance Troop, Regimental Support Squadron, 11th ACR, is a hands-on user of GCSS-A in support of the Regiment's large scale mission.
"It is very user friendly," Rucker said. "The most valuable part of the system is the fast response. As soon as we process a part, we can go pick it up."
Rucker explained that once a work order is generated by her office, she sends it to another section that begins their role in the processing of that order. They will in-turn, forward the order to the next section upon completion of their work. All the while, Rucker has the ability to see in GCSS-A at what step the work ticket is at and know by name and by time if a slowing in the process is occurring – eliminating redundancy and speeding the whole process.
Private 1st Class Suhyun Um, also an automated logistics specialist assigned to Maintenance Troop, sees another added efficiency bonus with GCSS-A.
"If we have a vehicle in our section that is down, we can see in GCSS-A if another section has that same vehicle with parts assigned to it, that are not being used and have the parts reassigned to us," Um said.
"As we go forward in time, it's important for us to understand how to gain a greater tactical advantage through logistics through the management of our supply chain and through the readiness of our equipment," Miller said.