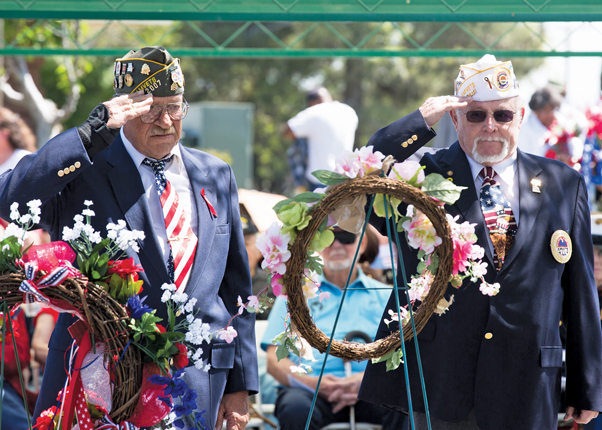 The 11th Armored Cavalry Regiment had the honor of participating in three Memorial Day observances in the Victor Valley area, May 25.
The ceremonies were held at Desert View Memorial Park, Victor Valley Memorial Park, both in Victorville and the Sunset Hills Memorial Park in Apple Valley.
Major Ryder Miller, a staff officer with the 11th ACR, served as guest speaker at the Victor Valley Memorial Park, where he addressed a crowd of Veterans, members of several area organizations and Victor Valley residents.
"Memorial Day is a day in which those who have paid the ultimate sacrifice, while in conduct of military service are remembered," Miller said.
Often, people tend to confuse Memorial Day with Veteran's Day. Where Veteran's Day is held in honor of our nation's Veterans of foreign wars, Memorial Day is reserved solely for those who gave their lives. At each of the memorial parks, large crowds – many of them Veterans themselves – came out in support, with some of them traveling to each location to pay their respects, or to represent loved ones, who are laid to rest at the memorials for their service.
Martha D'Hernandez, mother of Sgt. Armando D'Hernandez who was killed in Operation Iraqi Freedom in 2004 attended the ceremony with her husband David, to show their respect for those who gave their lives and for Armando. She looked on as Miller addressed the crowd and at many points gave tearful nods of understanding.
"My family has participated in World War I, World War II, Korea, Vietnam, Desert Storm and Iraq," Miller said. "I am paying homage to my forefathers as well as those who have not returned. Memorial Day is a day to remember there is a human element behind the freedom's we have as Americans. That human element are the men and women of the Armed Forces. Those who have not returned from foreign lands, those on active duty, in the National Guard, and Reserves."
Following Miller's remarks, Troopers of the Regiment conducted a 21-gun salute followed by the playing of taps to honor the fallen.
At Desert View Memorial Park, Maj. Bradley Lang – a communications officer with the 11th ACR – spoke at that ceremony. He began his remarks with a reading of a fitting passage from author Cormac McCarthy's novel, All the Pretty Horses:
"All around us, we see the flowers of peace and democracy blooming throughout our land. Today, we remember their terrible cost," Lang read.