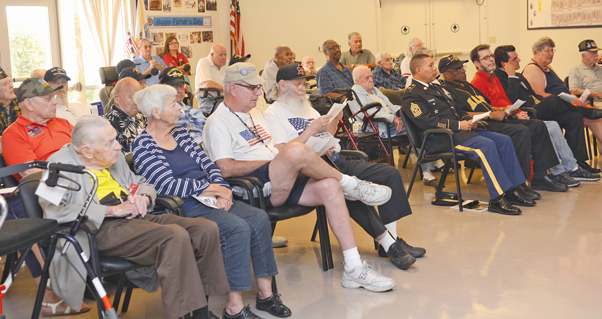 Leadership of Fort Irwin United States Army Garrison celebrated alongside Veterans of the California Veterans Home in Barstow the Army's birthday, June 12.
The tribute to the Army's 240th birthday (June 14) also included a cake cutting by the oldest and youngest Veteran at the ceremony.
Command Sgt. Maj. Carlos Esmurria spoke at the celebration, led the singing of the Army song, and shook hands with residents and staff of the facility.
"I'm honored to spend the Army's 240th birthday with you," Esmurria told the audience, which included Veterans going back to World War II.
Esmurria explained that the American people, since the beginnings of the Army, have trusted and placed their freedom and safety in the hands of the U.S. Army – which today is an unprecedented all-volunteer force.
"The Army's story is truly America's story," Esmurria said. "Young men and women of all cultural backgrounds, races, genders, different political and religious beliefs, raise their hand each and every day for the service of our nation."
The command sergeant major, who has served since 1984, continued: "Whether you are a Soldier, a Veteran, a family member, an Army civilian or a part of the community which supports the Army, you are part of a cherished organization. History will gloriously record what you have accomplished, not only for our country, but also for the men and women of the free world. The Army is, and always has been, the strength of our nation."
Esmurria asked for Army Veterans to be recognized and those who were able to stand, did so.
"Thank you for your service," Esmurria said.
Ken Garner, an Army Veteran who served from 1972-74 and originally from Compton, Calif., has lived at the Barstow Veterans Home for almost a year and said he enjoyed the festivity.
"I'm glad that we're not forgotten," Garner said. "It's been a pleasure. I appreciate it."
His message to his fellow Veterans at the home was: "I love you all, I appreciate your service, I appreciate your friendship and your kindness too."