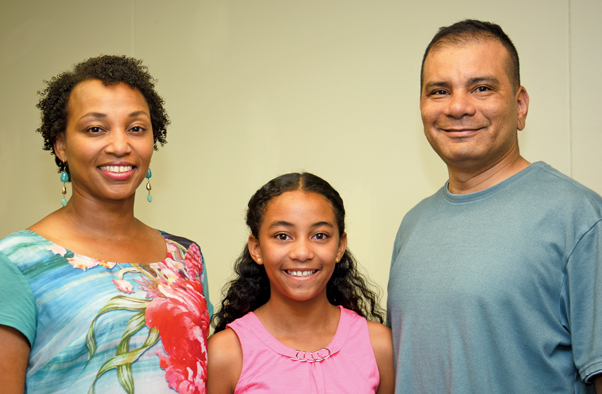 "I love being with him."
Those were the genuine, expressive words of a young military family member here not shy about her feelings for her father.
Robyn Wilson, 10, said those words about her dad, Col. Richard Wilson – who has been the chief of staff for the National Training Center the past couple of years. Robyn also described her affection for dad in an essay she wrote for a contest hosted by Family and Morale, Welfare and Recreation. The judges were certainly moved by her expressions, because she won her category, grades 3-5, for the 2015 "Young Lives, Big Stories."
Robyn, who recently completed fourth grade at Tiefort View Intermediate School here, wrote about her experiences as a military child and in particular of a moment she will always be fond of – an unexpected visit by dad from a deployment to Afghanistan. Her winning entry follows:
What does it mean to be a Military Child?
Being a military child can be fun, sad, or even scary. Your emotions will change. Life can also be very adventurous!
One of my favorite memories are from a time that I felt both happy and sad. It was me and my twin sister's 7th birthday. Our Dad was deployed to Afghanistan and we thought that he wouldn't be home for our birthday, but we were suddenly surprised. We were at school in the cafeteria. The lights went off and everyone sang Happy Birthday to us and through the walkway, it was our Dad in his uniform! I was crying down a flood. He picked me up and I was so happy and relieved that it happened. It felt like a dream on a roller coaster. After that, I was so emotional.
As a military child, it is fun when you move from place to place. You're basically moving around the world and that is exciting and adventurous. You may get to live in a few favorite places around the world, for example: Hawaii, Europe, Texas, or California. You never know, that's the thing. Another good thing about moving is making new friends, forgetting the past, and focusing on the future.
It is scary for us kids, when our moms and dads go to war or are far away from home for a long time because they may get injured or die. As a military child, I am sad when my dad comes home late at night or works long hours. Sometimes I don't see him before I go to bed or when I wake up in the morning. I also miss my Dad when he goes out to Afghanistan or to a war with his job for a very long time, but I am happy that I can send letters, photos, make stuffed Daddy dolls, and video Skype. You can insert a picture of your Dad's face in the Daddy doll. You can sleep with it and record their voice speaker in it so you can hear them saying something like "I love you," "I Miss You," or "Good Night." These activities make me feel much happier.
In conclusion, as a military child, life can be like a roller coaster with happy and sad times. Just remember to focus on the things you can do to be happy and have fun!
The infantry commissioned officer said he was initially surprised by Robyn's reaction when he visited, but knows he is loved and appreciates her admiration.   
"As kids they are really proud of what their parents do," the colonel said. "I'm very proud of her."
Robyn said she enjoys participating in activities with dad and described the reason as: "I feel I am close with him." She is proud he is a Soldier, and understands there can be difficult times when a parent is not home because of duty.
"It's challenging to not be with them at times," Robyn said.
She expressed that children who experience separations from parents, because of service to the nation, should remember moments spent together.
"They should cherish those memories," Robyn advised.
Relisa Wilson, Robyn's mom, said the community in Florida where the family (the Wilsons have four children) lived during the colonel's deployment was very supportive. Coming to Fort Irwin allowed the family to reconnect. It has been an opportune time to be together, grow a little more and create new memories, she said.
The colonel said Fort Irwin is a great post to reunite with family and spend time together.
"It's a great opportunity to see your kids grow, to see them do some great things in school and with extracurricular activities … and just become leaders amongst themselves," he said.
He went on to describe the post as amazing in terms of the leadership and environment, and with a close-knit community. He described post activities and organizations as being integral to the readiness and resiliency – of not only Soldiers – but of the community.
"We have a lot of resilient families here," he said.
The Wilsons will soon move to Texas for dad's next assignment.